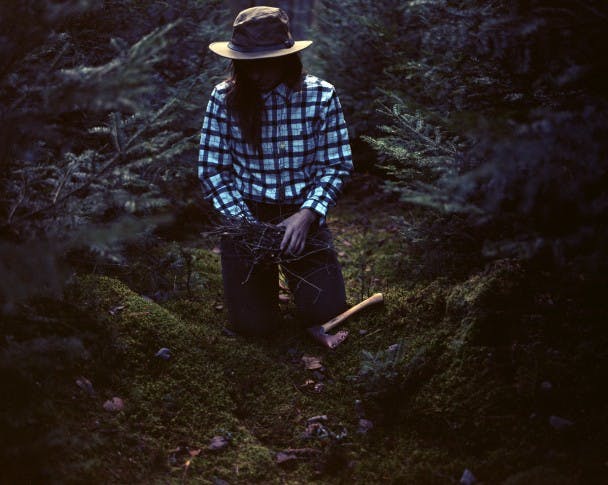 In the latest Filson Life, Jonathan Levitt and Muwin Collective ramble along the North Atlantic coastline preparing for the upcoming cold season.
Nov 10
The garden is covered in straw and seaweed. It gets dark so early
we cook, we bring in wood, we ramble, and we scout
Chores are done. It is warm inside, the soup warms over the fire.
And now, for the first drink of the day. Strong honey beer. Poured from the jug into a clay mug.
They are the dog people, the porcupine eaters, the garbled talkers, the beautiful river people,
Nov 12
I wake up in the night. I step outside. The moon is in the south, high in the sky.
The foods, smoke dried, stored away.
If there is more food, they dig another pit, and line it with birch bark
Amewin goes to slop the dogs. Her toes point up when she walks.
The deer, wandering and fattening. Bucks, their necks engorged
All the creatures in their new and finest coats
The wind blows toward here
Lamb Stew
3 lbs boneless lamb neck or shoulder, trimmed and cut into large chunks
2 lbs russet potatoes, peeled and chopped into rough chunks
1/2 bunch parsley, finely chopped
2 medium onions, peeled and thinly sliced
salt and pepper to taste
Set the oven to 250°F
Place the lamb, potatoes, parsley, and onions in a heavy pot with a tightly fitting lid. Season with salt and pepper. Add enough water to cover ingredients. Over medium heat with the lid off, bring the stew to a simmer on the stovetop. Once it is simmering steadily, cover and place the stew in the oven. Cook for 2-3 hours, until the meat is tender, the potatoes and onions are soft, and the broth is rich.
Serve with fresh parsley, a pinch of salt and pepper and crusty bread.