Taylor Shellfish Farms is our kind of company, a company founded on sweat, saltwater, and hard work. Despite punishing conditions and demanding physical labor, this 120-year-old, family-owned shellfish farm has single-handedly turned Washington state into the largest producer of hatchery raised and farmed shellfish in the nation. To grow this substantial business, Taylor has relied on their ingenuity, perseverance, and a close working kinship with their employees, many of whom have worked there for over 20 years. One of these valued employees is Brian Omdahl, the Fabrication Shop Manager, who oversees the production of one-of-a-kind projects and equipment for exclusive use at Taylor. We had a chance to catch up with Brian and his crew at the fabrication shop to learn about this unique operation.

How long has Taylor operated the boat fabrication facility?
Taylor has been building most of their own work skiffs for over 20 years. We had the need to expand our fabrication capabilities five years ago to accommodate the growth needs of capital projects for the company.
How many people currently work in the facility?
We currently employ 11 welders, fitters, and fabricators. In order to keep up with the demands of the company, we'll need to add 2-3 more employees in the coming year.
What are the main "products" of the fabrication shop? What drove Taylor to open this particular shop?
We build a wide array of projects: floating oyster seed nurseries, 20-24ft work skiffs for beach crews and larger 30-60ft vessels used in the maintenance, seeding and harvesting operations from Canada to Willipa Bay. The main driving factors in having the fabrication facility are quality control and flexibility. By working closely with the farm operators, management and the maintenance shop, we are able to design, build and put into use a product that best fits the needs of the particular farm or operation that it was built for. We are also able to look ahead at possible maintenance issues and make change orders during the building process which saves time and money in the long run for the company.
What makes your fabrication shop unique?
Some things that make the shop unique are that we work for the end user. We also end up building a lot of one-of-a-kind projects. Some of the projects may not only be unique to the shellfish industry, but may only ever be built by us for Taylor Shellfish. We never know what project might come through our door.
What's the most interesting project you've been able to work on?
I would say that it was the first project that we built at our offsite fabrication shop in 2010. It was a 30ft by 60ft floating raft with five vertical pods that hold roughly 300,000 Geoduck seed [babies] each. The pods are an aluminum framework that are raised and lowered by a hydraulic gantry crane. We had to prefab what we could inside of the shop and then truck pieces down to the water and fit everything together, weld it out and then launch it. All aspects were challenging for me at the time; fit up and weld out, logistics to get it to the launch site, set up and final weld out in the field and then the launch. It was a great learning experience that helped me gain the experience needed to be able to build the projects that we've worked on since.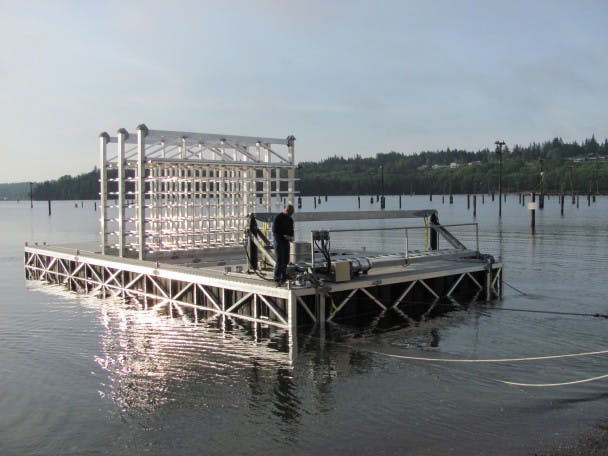 What's a normal day like in the Taylor boat fabrication facility?
Early mornings! [laughs] Trying our best to balance efficiency and productivity with quality. Problem solving. We are always looking for ways to do things the very best that we can.
How long have you worked at Taylor? How did you end up working there?
I started working for Taylor Shellfish right out of high school. I started working out on the Mussel Farm in South Puget Sound and after seven years I had the opportunity to transfer to the maintenance shop where I learned welding and fabrication skills. After about seven years there another opportunity came up to move into a larger fabrication facility and I have been here ever since. Next September will mark 20 years for me here at Taylor.
What do you love about working at Taylor? Also, if you hadn't worked at Taylor what do you think you would have pursued?

I love the variety and challenges with the projects that we take on, it is always changing and keeps things interesting. I also really enjoy being able to complete a project and then see it in action, firsthand, and get feedback from the folks operating it. It's also rewarding to build something with quality and functionality at the forefront that will last a long time, much like Filson does.
If I had never had the opportunity to work for Taylor, perhaps I would have entered the logging industry or been a carpenter; like father, like son.
When not at Taylor, how do you like to spend your free time?
I enjoy spending time with my wife, family and friends, and trying to sneak out to the river to do some Steelhead fishing and cooking what I catch.