After a childhood spent being fascinated by knives, Robb Gray of Graycloud Designs in Seattle now lives his dream as a knife maker. His knives are shaped and built for ergonomic utility. Some of them are finished by using a simple compliment of materials, while others become luxuriously embellished with hand-engraved patterns and gemstones set into the handles. Not surprisingly, the outdoorsman, originally from Idaho Falls, believes they should all nonetheless be "…fully used in the field."   In collaboration with Filson, his co-branded collection includes three knives for the sporting man: the Scout, the Outdoorsman, the Fillet knife, and the Alaska King Salmon Fillet.
How long have you been working with metals and, in particular, crafting knives?
I had dabbled with making silver jewelry intermittently until, in a "small-talk" conversation in 2005, someone I'd just met at a party mistakenly pegged me for an artist. The comment inspired me to focus beyond my realty day job, and I started working toward a career change. I made a lot of jewelry until I came across Blade Magazine, in 2007, and an advertisement for knife maker's supplies; in that instant I knew that I was going to make knives!
How was your interest in knives formed and shaped? Were there any particular people or places that were involved?
Originally, my interest in knives was in conjunction with my avocation for hunting, knives being an important tool for the sport. My personal philosophy mandates that game be fully used, and this means taking care to properly dress a kill in the field, which is where the most common mistakes are often made. You need the right knife at the ready. The effectiveness of my designs has a lot to do with the fact that I use hunting knives, so I know what works and what doesn't.
A grizzly old coot, Tiny Spencer, was my first mentor and he allowed me to work in his shop alongside him. As my skills improved he thought it a good idea for me to work with another knife maker, Dan Westlind. Dan's demonstration of a different work sequence for me was invaluable. Dan is a genius problem-solver and my go-to resource when I come up against a new issue for which I can't see an easy solution – I confess I'm not as smart as I look!
What are the 3 most important aspects of a well-made knife?
Form, balance and structure. The form of the handle should be shaped so that it fits comfortably in your hand and is easy to grip. The blade design has to accomplish the intended purpose well, whether it's to skin an animal or to cut a marshmallow roasting stick. The knife should somewhat level itself in your hand, too heavy at one end or the other is a nuisance that impedes utility. Pretty much anyone would think a knife must be built solidly, which is true. Not so obvious is the importance of the correct metallurgical structure, which ensures that the blade will hold its sharp edge well.
What separates Graycloud Designs from other knife makers out there?
What's important to me is that each knife is designed with a particular purpose. Each one gets tested and modified once or many times until I have its' details just right. Then I make it "for real". And none of them are just pretty: the function is still there within the complexity of even my most elaborate finished work. I follow the cliché that necessity is the mother of invention, which is why I started learning leatherwork shortly after I finished my first knife. Then what? Well, there was engraving, file work, then stone setting, etc. I'm also open to input from others because I know there is always going to be something out there that I haven't tried or learned or mastered….yet!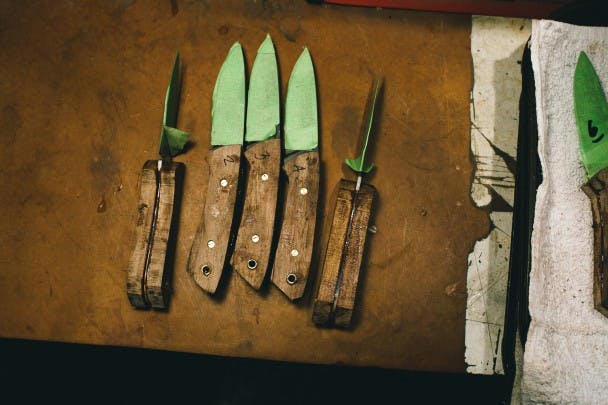 Do you have any advice for people trying to follow their passions? Is there any other advice you'd care to pass on?
There is a logical process and I have to credit my father-in-law, Leon Osowski, for stating it succinctly: "If you want to learn something, first research it on your own: read a book or take an instruction class. Then give it a try. Then consult an expert in that field." This is the way to find a mentor because your demonstrated initiative will convey your genuine interest, and everyone enjoys sharing their common interests. (A note to any future knife maker wannabes out there: this works on me, too!)
If you weren't working with metals and crafting knives, what would you be doing?  Where would we find you?
You'd find me working with my hands in some way, until I get too old and rickety for it. I'm a certified welder and I like the immediate result of such work; there is something tangible at the end of the day. I also teach metallurgy at South Seattle College and appreciate the opportunity to inspire and help my students.