Aleph Geddis, a wood sculptor from Orcas Island, WA, has spent the last four months in his carving shed working on a one-of-a-kind piece of art for our upcoming flagship retail store in Seattle. Utilizing hand-made tools and an unique style formed through an appreciation of North West Coast Native Art and travels around the world, Aleph, with the help of his carving team, has created a 18.5-ft testament to the wild spirit of the Northwest. We took a trip to visit him at his carving shed and find out more about his creative process, and what exactly went in to this particular piece.

How long have you been working with and carving wood?
I started carving seriously a little over 20 years ago as an apprentice with my step-dad, who is a wood sculptor. But I grew up going in and out of his carving shed, so I guess you can say that it has always been a part of my life.
How was your interest in wood carving formed and shaped?  Were there any particular people or places involved? 
At Waldorf School we learned to sculpt beeswax. It was there that I discovered that I had a talent for visualizing and making forms. This talent naturally developed into an interest in carving wood, especially with the carving shed being such a big part of my childhood. My step-dad, Walter, helped guide me and was a transformative figure in my life.
Later on, I also studied with Duane Pasco, a prominent Pacific North West carver, and his process also greatly influenced the way that I work.
Being born and raised in the Pacific North West was also very influential. I grew up with a deep appreciation for North West Coast Native Art. A visit to Japan at the age of 12 also inspired and influenced me. The overall aesthetic of the art and woodwork I saw there left a huge impression on me at a young age, and I still have so much appreciation for the simplicity and elegance of Japanese designs.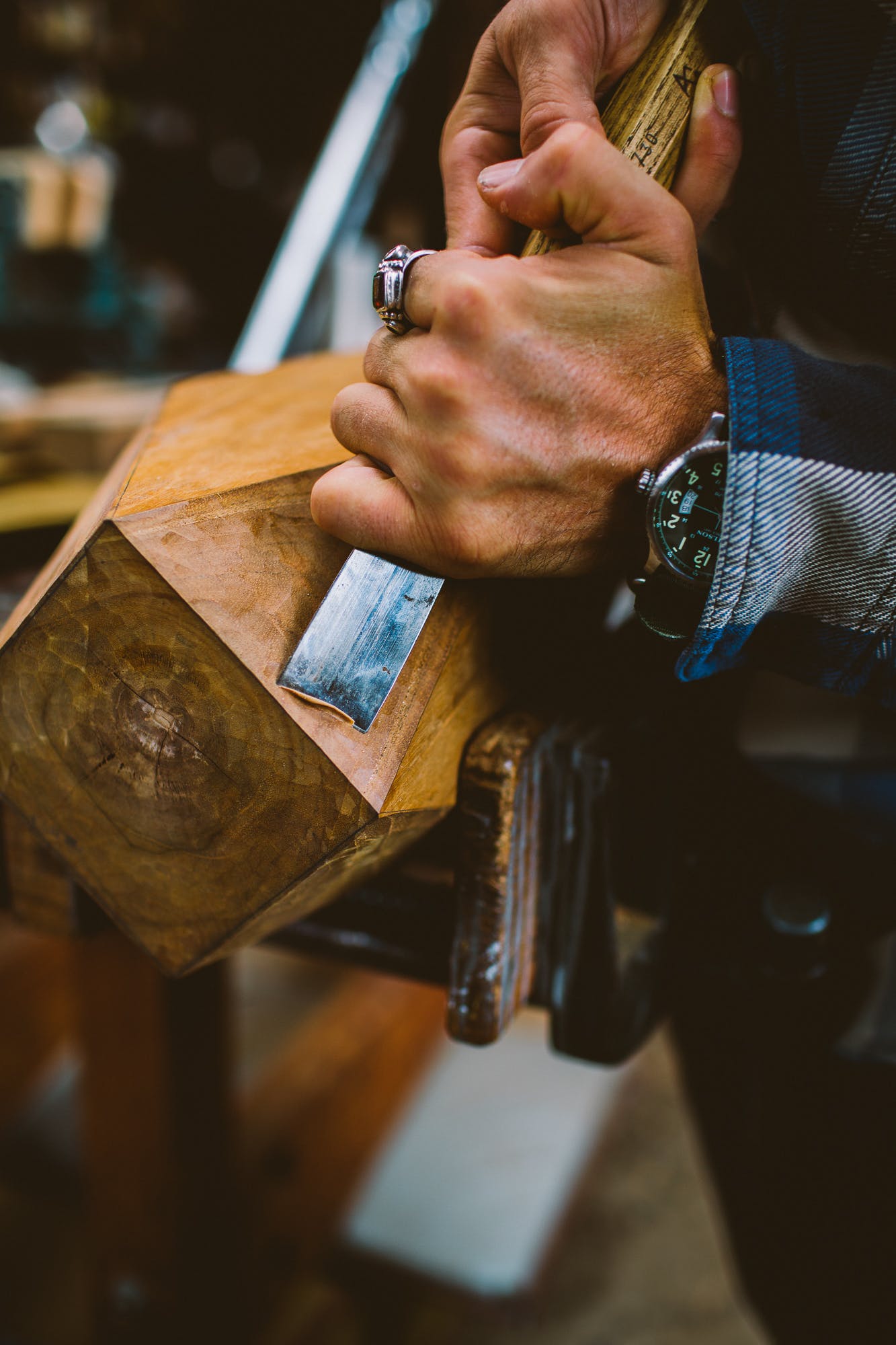 What are the 3 most important facets of a wood carved sculpture?
When I look at a good sculpture, there needs to be an element of tension there to hold the space and form really well.
I also love seeing the texture and hand of the artist in the piece. Skilled artists leave behind a certain elegance in their hand carved texture that I really enjoy seeing.
And lastly, a great piece of wood is key. I love irregularities in the wood, especially in my geometric pieces. A crack contrasts nicely against the organized structure of geometry.
How would you describe your style in a few words?
In my work, there is always an interaction between hard and soft, between tension and fluidity. Modern clean lines are mixed with something handmade, textural and timeless. This dialogue between seeming opposites is a defining factor of my style.
We've heard you make your own tools for carving the wood sculptures, is this true? Why do you do this?
I make bent knives to specifications and styles that I cannot find elsewhere. There is something special about making a tool as a piece of art to create art. Beyond that, I love making my own tools because I am making something that I can't buy, specific to exactly what I am doing.
How long did it take you to finish the Filson Flagship project?
This project took around four months to make but would have taken a lot longer were it not for the help of my team. The scale and complexity of the piece required a lot of cooperation and planning, but it was a creative process that we all enjoyed. It was fun to test our ingenuity by having to collectively brainstorm solutions to any problems that came up, and it was also an honor to have my step-dad be such an integral part of the process.
What was the inspiration for this particular piece? What have you carved in to this sculpture and why?
A big part of the inspiration for the Filson Flagship piece was the opportunity to blend my two prominent carving styles, geometry and animal characters. This piece really embodies both of them by allowing the hard lines of geometry to be brought to life by the spirit and warmth of the animal figures. My inspiration also stemmed from the size, shape and location allowing the piece to be viewed from a multitude of angles, seeing each character in a new light.
What are your favorite materials to carve from and why?
For me, carving is all about the texture and the feeling of the chip coming off. There's nothing like the feeling of a sharp knife slicing through buttery wood. Certain woods are better to carve than others. The piece I've worked on for Filson is red cedar, which has been a pleasure to carve. But, I also love the creaminess of big leaf maple and yellow cedar.
Is there any advice you'd care to pass on?
If you are passionate about a craft, don't be afraid of putting in the time to master it. There's also a process of weeding out other things in your life so you can devote more and more time and energy to your art.  Even if it means taking a wage loss. These days people are so impatient with their dreams. Wood carving is something that requires ultimate patience, dedication and love of process.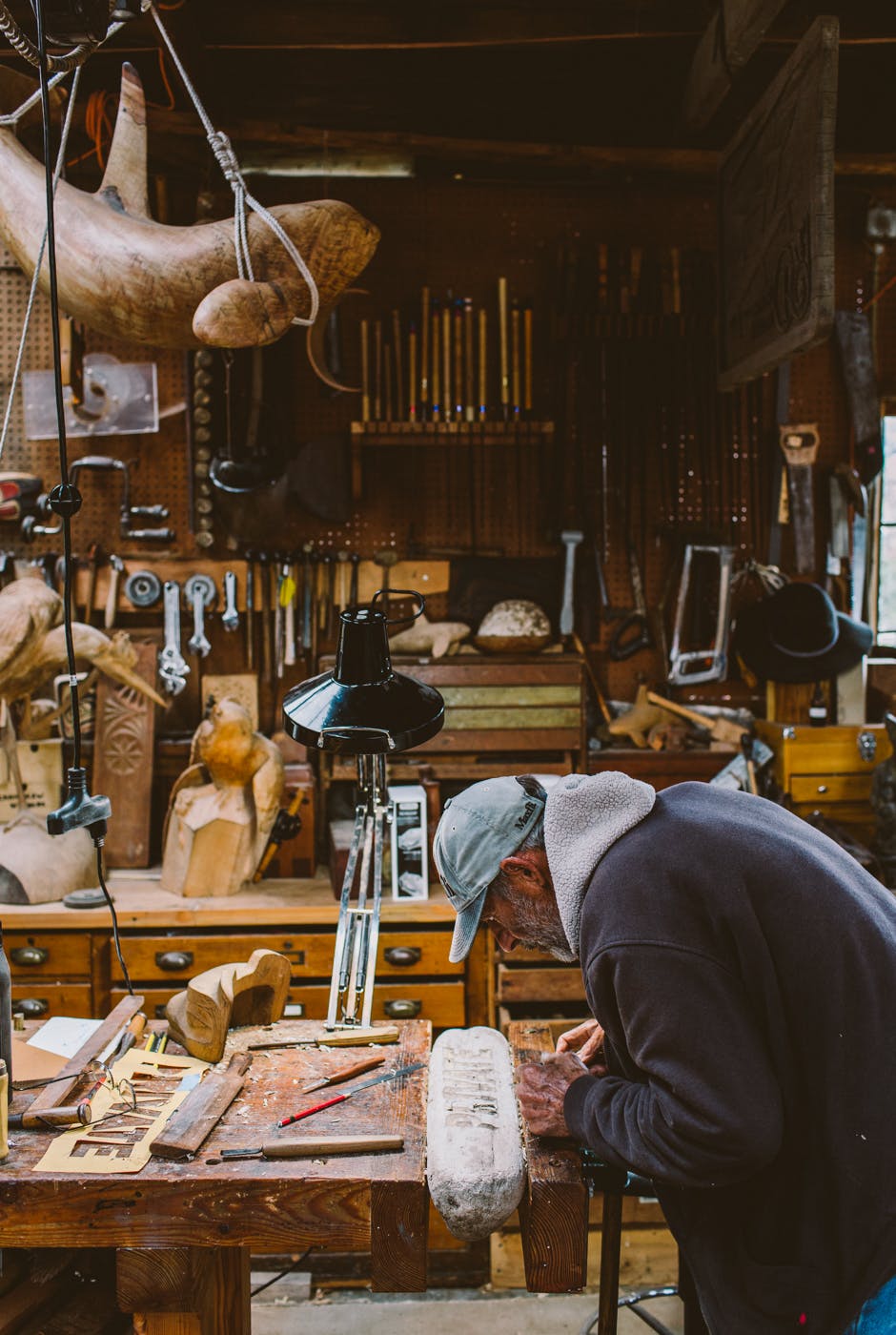 If you weren't working with wood, what would you be doing? Where would we find you?
If I wasn't working with wood, I would probably be sculpting with some other material. I love form and process. I also have a deep, innate love of aesthetic and could see myself curating spaces. My girlfriend and I are in the process of launching an online textile store. It combines our love of travel with our eye for interesting, vintage textiles from around the world. The store VAQUERO should launch in the next few months.
Make sure to visit the Filson Flagship store in Seattle to see Aleph's piece in person.