Nicholas Coleman was born in Provo, Utah in 1978.  Brought up in an artistic home, Coleman has been painting and drawing for as long as he can remember. Coleman has found much of his inspiration in his travels across North America, Canada, Europe and even into Africa. Hunting and fishing along the way his interest often include exploring hidden streams and valleys looking for signs of wildlife. He gained an appreciation for the subtle details hidden in plain sight. In his own words he wants to "preserve the heritage of the American West."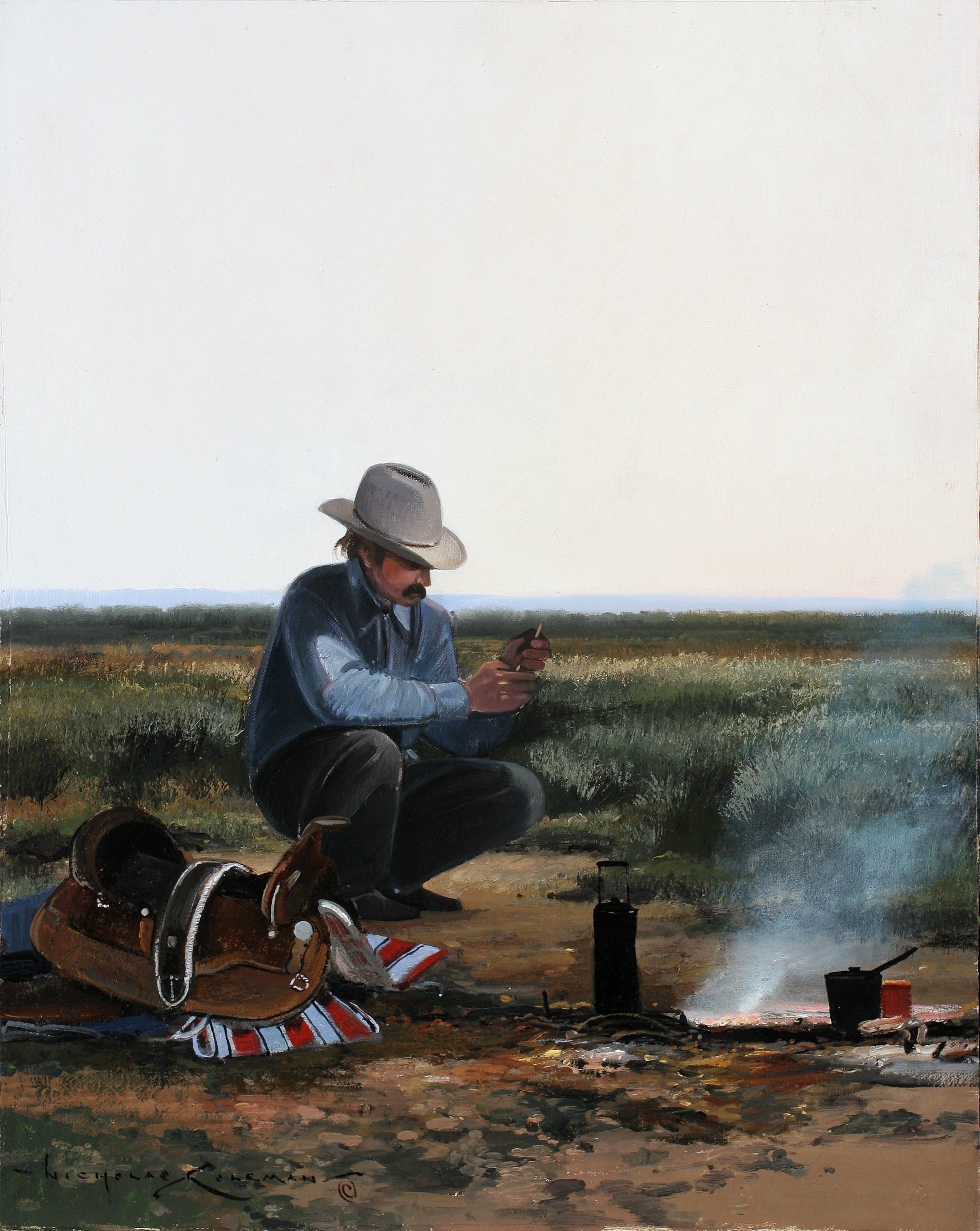 How did you start painting Nicholas?
I have fond memories of visiting my dad's studio at a very early age and begging him to let me paint on his paintings. He was nice enough to mark off certain spots, often dark places under rocks for me to fill in. I was hooked!
Have you always known what you've wanted to do with your life? Or did you stumble upon it?
My father being an artist, I really did gravitate towards being an artist since I was pretty little. I did all that I could to become one. The only stipulation my mother gave me was that I had to finish college then I could do whatever I wanted. She knew it would be a hard road and it has been, but with a lot of hard work good things happen.
Your work seems to focus on the animals, landscapes, and peoples of the West. What draws you to these subjects?
I tend to paint what I know. Growing up with my dad hunting and fishing. It was he who pointed out the fantastic little details in the landscape. Walking through muddy banks with hip boots on and checking our muskrat traps on stormy winter days is where I learned how to look for beauty in places that most people would never think to look. The smells, the light and the little creatures you get to see early in the morning before any one else is out and about is simply magic to me. I have a fascination with the American West and its Heritage and I want to share my enthusiasm with anyone who will take a look!
How would you describe your work in 5 words or less?
Heritage of the American West.
What's the best piece of advice you've been given? Do you recall who gave it to you?
I think it was my dad. "Make every piece better than the last." Im constantly looking to make what I do better and better. I don't think I ever completely satisfied and I work six days a week in order to better than the week I was before. Looking for inspiration wherever I go. Whether in a museum or out in the mountains. People often think when they find out that I am an artist. They think "Oh, he's an "artist," thinking that I am a free spirit or something. I treat what I do very seriously and treat it like I would a 9-5 job, I think I work even harder. It can definitely look like an illusion but I work from when it gets light to when it gets dark and often longer, six days a week. There is no one else in my office painting for me if I'm sick. I am the only one who can paint my paintings.
It's a tough question but what would you say is your favorite piece you've done so far?
It's definitely hard to think of a favorite painting. Every once in a while I will see an old painting and wonder, "Wow! How in the world did I do that one!?" The ones I tend to really like are the ones where I experiment. Sometimes it works and sometimes it doesn't.
What does the future hold for you? What's next on the agenda?
The goal for me is to continue to paint what I love. What I really would like to do is to slow down a bit and really focus on just a few paintings a year. Making sure each one is as best as it can be! It seems with social media, that everything is quick paced and takes no time or effort. What people forget is that the paintings that are created stem from years of close observation of nature, drawings, sketches, I live and breathe what I do. Im not a "Johnny Come Lately," when it comes to my work. I have been painting the Heritage of the American West because I love it and cannot imagine doing anything else.