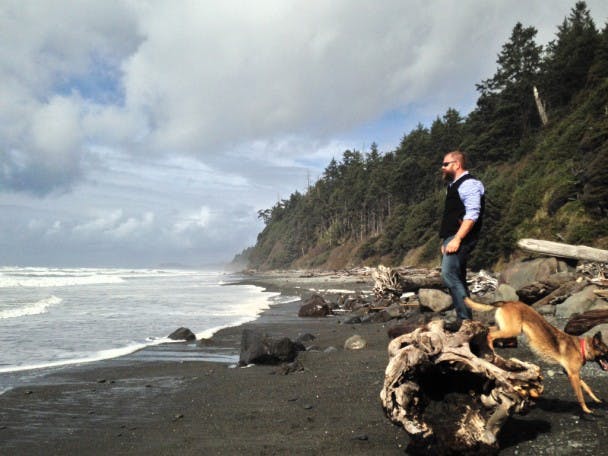 'In Your Words' explores the incredible stories we've received from Filson fans across the globe. Send us your own experiences with our clothing or product here for a chance to be featured on the Filson Life blog. Matthew Graham remembers his family story with the help of a Filson Mackinaw Cruiser.
"What kind of jacket should I get," I asked my dad.
"That's easy," he said, standing and walking to the coat hooks in the mud room. "I'll show you."
I was a professional at this point in my life – a cop, newly minted, eager to make a difference – and wanting a really good jacket. I had no idea what I wanted, but I did know that I wanted something that would last, something that I could count on through everything life might bring. So I asked my dad. Now, Dad was the kind of man that possessed wisdom. It is said that wisdom is where experience meets knowledge. My dad knew things. Born to a military veteran after World War II and the middle of three children he began his adolescent years north of Seattle in Mt. Lake Terrace as wild and free as any northwest boy. His adolescence was changed by the unexpected death of his father, and his passage into manhood came in the hot and humid jungles of Vietnam. After two combat tours and a Silver Star he returned home, married his high school sweetheart, was 1970's only Recruit Firefighter for the Seattle Fire Department – a job from which he would retire after close to 30 years of service – all while building a home and raising two boys. He was a builder – he made things with his hands. There are families today, all over the Puget Sound, living and experiencing life under a roof he crafted. He built the home my brother and I were raised in, the home my Mom lives in to this day. Whenever I asked dad a question he always gave a direct answer. Sometimes his answers were a "you could" for decisions I was not sure that I wanted to make or "you might" for things I had thought of trying but maybe I should think about again. His answers were spent teaching the lessons of life: do it right the first time; put in the work; never do anything you have to apologize for; leave something better than you found it. His answers had depth – they pulled you in. His answers taught me things. He was wise. And his son – me – rarely, if ever, listened. If my Dad were still here he'd tell you so – with a small, direct comment that would convey that there's a lot more to the story.
I wanted a jacket so I asked his advice. He returned from the mud room, holding a Mackinaw Cruiser in red and black he had bought around 1970 after returning from war and starting his new job as a professional – newly minted, eager to make a difference – and said, "If you only want to buy one, buy a Filson." I decided to listen.
I distinctly remember the sound of the hanging door bell ringing as I walked into the Hartney's store in Stanwood, Washington late in 1994 to purchase my Filson. On the old cobblestone and brick portion of Stanwood's streets, next to the historic First National Bank, Hartney's evoked the feeling of home and comfort. The Filson section was near the back of the store on the left hand side, past the old-time crank register and greeting area, but before the dress shirts and the back wall of shoes. I chose a Mackinaw Cruiser in forest green.
As I write, the fall season has arrived in the Northwest. The leaves have changed, fireplaces are lit, and the rain is getting colder as it's helped by hints of the winter wind. I have owned my jacket close to 20 years now. I could say it's as good today as it was the day I bought it but that would not be true. My Filson is better. My Filson has life. I have worn that jacket around the world at least three times. My Filson has traveled over oceans, up peaks, across cities and into villages. My Filson has been to all but eight of our states and it has stood in more than 15 countries on three continents. My Filson was there for the winter birth of my son and for the autumn burial of my father. Having my Filson is one of the greatest reminders of the story of my family. I asked my Dad a question about a jacket and he used his answer to teach me how to live. I listened. I wear my Filson on my journey – a journey in which my experiences and my knowledge meet.
Matthew Graham has served his country his entire adult life. He's most proud about being a father, and a son.