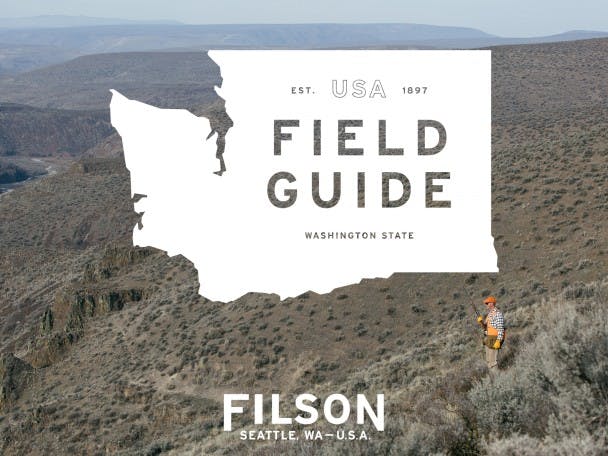 With sparse deserts and plains, sprawling coastal tidelands, and the only temperate rainforest in the contiguous United States, Washington is home to one of the most diverse climates of any state. For any sportsman or woman this translates to endless outdoor possibilities. A 3-hour drive from the Filson Headquarters in Seattle will put you knee-deep in slate gray water throwing flies for Steelhead, forging through a marsh with duck decoys in hand, or hiking along a basalt-rimmed plateau behind working dogs with a side-by-side. Throw your Waders, Tin Cloth Pants, and an Alaskan Guide Shirt or two in your duffle and hit the road in the AEV Filson Edition Wrangler with our Field Guide to Washington.
WINGSHOOTING IN CENTRAL WASHINGTON WITH RED'S FLY SHOP
Travel two hours east of Seattle and you'll find yourself right smack in the middle of "Chukar Country". Along this stretch of the Yakima Canyon, the vast rolling plains, basalt-rimmed plateaus, and creek bottoms near Ellensburg, WA are home to the rough and rugged terrain that crafty birds like Chukar, Quail, and Pheasant inhabit.
Hit up the fine folks at Red's Fly Shop for the best guided introduction to this incredible landscape and you'll be able to work alongside some of the most skilled people and bird dogs out there.
6:00AM: LACE UP YOUR BOOTS AND HEAD EAST
If you haven't hunted these birds before, make sure you've broken in your Uplander Boots (hike at least 5-10 miles in varying terrain pre-hunt) before attempting to chase 'em. You'll be tracking these birds for miles along rocky and rarely trodden country, so be prepared with enough water for you and your dog, enough blaze orange gear to light up a field, and the right layers of clothing (we always bring our Tin Cloth Pants, an Alaskan Guide Shirt, a Mackinaw Vest, and a warm, packable jacket like the Stryker for unexpected weather). Set off on Interstate 90 going east toward Ellensburg and you'll be at Red's with ample daylight to burn.
8:00AM: MAKE A QUICK STOP AT OWEN'S MEATS FOR PROVISIONS
Take Exit 84 off Interstate 90 toward Cle Elum, WA and you'll find yourself at one of the best family-owned meat shops in the country. Owen's Meats has been providing Central Washington with high-quality sustenance since 1887 (that's 10 years before C.C. Filson opened his doors in Seattle). You won't want to miss a chance to stock up on their spectacular pepperoni, beef jerky, and flank steak.
8:30AM: TAKE TO THE HILLS AND WATCH THE DOGS WORK
Greet your guides at Red's and follow them into this picturesque hunting area. Hike behind the dogs with your side-by-side shotgun, watch them work the fields, and wait for them to lock on a bird. Now's your chance, stalk up to the dog on point and flush the pheasants for a clean shot. These birds fly fast—blink once and you'll miss the opportunity. That being said, it's easy to enjoy this awe-inspiring countryside even if you never see a bird at all. Remember, hunting is all about the journey.
4:00PM: BURN THE DAYLIGHT AND BAIL TO THE BRICK
After hours of hiking and hunting, you'll be ready for a serious meal (and a serious beer). Tip your guides, congratulate the dogs (despite your burgeoning blisters, they worked harder than you ever will), and load out with any winnings from a day well spent in the Yakima Canyon. Head back the way you came, and take a slight detour to the historic town of Roslyn to experience the one-of-a-kind Brick Saloon. Established in 1889, the Brick (named for the 45,000 bricks used for its original construction) is the oldest continuously-operating bar in Washington State and it sure feels like it. Complete with a 23' running water spittoon under the bar, a jail cell in the basement for nefarious patrons, and some of the best beers and pub fare in the area, this storied saloon is one you won't regret visiting.