Waking up at 2:30am to catch a plane isn't exactly at the top of everyone's list of things they want to do. But here we are, throwing our bags in the back of the truck while the world sleeps. We pile in and make our way to the airport, a little groggy and quiet on the ride. But through the quiet there's still a sense of excitement. We're off on another adventure.
This trip is a little different than our others—no long canoe paddle into camp, no tents to set up, no field kitchen or camp cook. It takes us two flights, a truck, a boat, and another truck ride and we're on St John. We spend all day traveling and get to the house after dark. See this isn't a vacation, really. At least that's not the idea. We're here on a video assignment—work. But it's good work, and we're happy to extend our stay to make time for some exploring.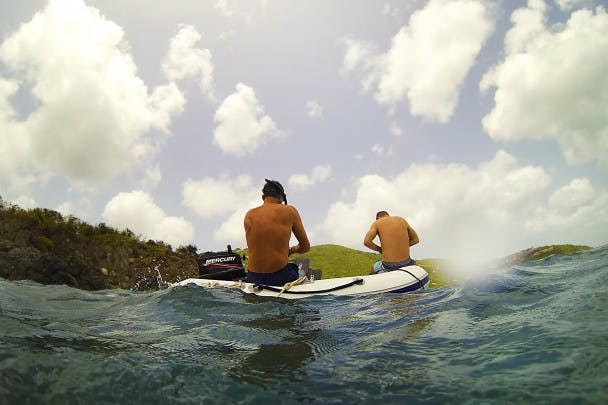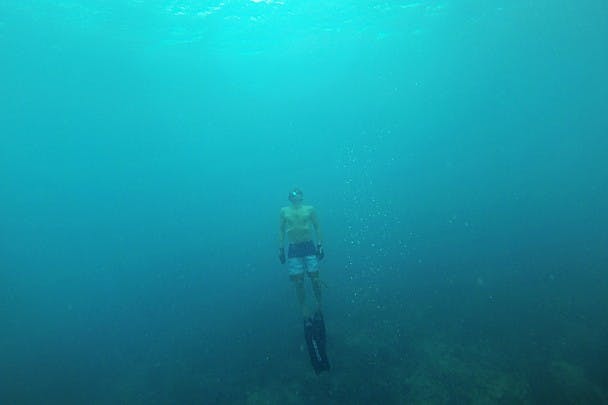 The island definitely has some things we don't see at home: wild donkeys and goats running alongside the road, iguanas, sea turtles. The beaches here are pretty incredible too. A series of protected coves separated by rocks or outcroppings with water as clear as a gin and tonic. And when you see signs telling you to watch for falling coconuts, it's time to go find some coconuts. Finding them is one thing—cracking them open quite another. It's not terribly hard, but it sure isn't like peeling an orange. So we get a few coconuts, dive for lobster, find some old sugar mill ruins, hike up trails overlooking the islands, and try to ride an unsuspecting donkey. They're quicker than you may think.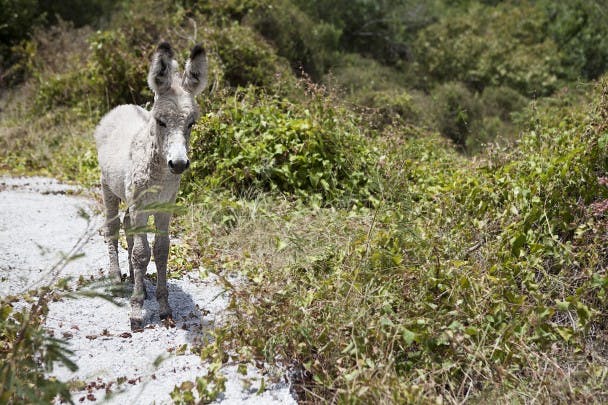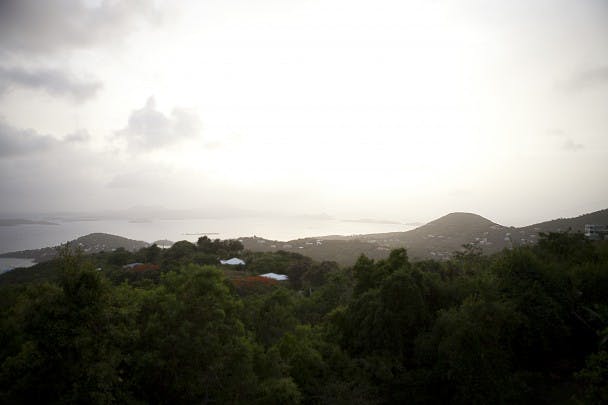 We cook almost every dinner at the house, preferring the company and camaraderie of cooking a meal together over going to a restaurant. Maybe it reminds us of camp—a really nice camp with a refrigerator and an oven. The rum and beautiful ladies don't hurt either. One night we make a fire and cook our dinner right on the beach. Lobster and kabobs becoming our island version of pork chops or steaks over the fire in the woods back home. A suitable replacement if ever there was one.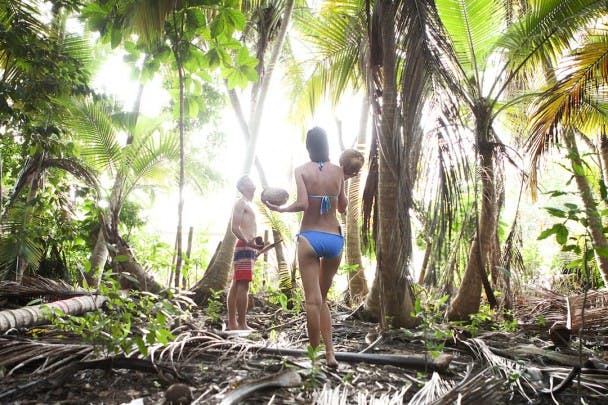 So as the week comes to a close we pack up our bags and camera equipment and make the trek stateside. This time taking a truck, a people ferry, a misunderstanding with some pushy tourists at a taxi, then the two plane rides back home. It's a little shorter of a day than our trip out, although we seem more tired, a little salty, and maybe a little sunburned.
As incredible as it is, a hot summer trip like this can make you miss the mountains. The trickle of a trout stream. The smell of evergreens. But there will come a point in the dead of winter—maybe when we're freezing in a tent or can't feel our fingers when tying on a fly—when we'll be dreaming about St John.
Overland Empire is an outdoor brand focused on adventure and photo and video content. Learn more at overlandempire.com and on there Vimeo, and follow them on Instagram and Twitter at @overlandempire.