Article courtesy of the Rocky Mountain Bushcraft team, which consists of founder/writer Jason Schwartz and editor Leah Klocko.
Jason Schwartz is an axe-wielding, modern day mountain man.  Lover of gourmet food, a good joke, and the way the steel rings true on a good vintage axe bit.  He's also a Red Cross certified Wilderness First Aid Instructor, music aficionado, and known to some of the locals as the "Bear Grylls" of his area.
Leah Klocko oversees the country music landscape of Pittsburgh as a radio personality when she's not editing articles about testing a new bushcraft knife or surviving in the wilderness.  She's a local actor and costumer who's learning how to use an axe, strike a firesteel, and search for pitchwood tinder; which gets her some rather strange looks in the suburbs.
The Swiss Army knife corkscrew has long been maligned as a useless wilderness tool (unless you're a wine drinker of course), but it's actually great for undoing stubborn knots. It easily weaves into a tight knot after which it can be used to gently pull it apart as shown: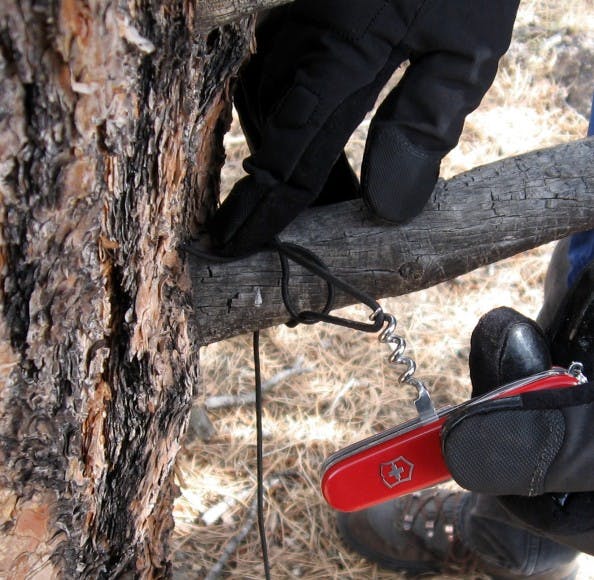 Ok, so you're convinced the corkscrew has worth, but you'd still like to have a Phillips head screwdriver on your Swiss Army knife (which the corkscrew replaces). No problem, just use the Swiss Army can opener for Phillips screws:

You'll now have the best of both worlds, and can even enjoy an occasional bottle of wine during your wilderness excursions!