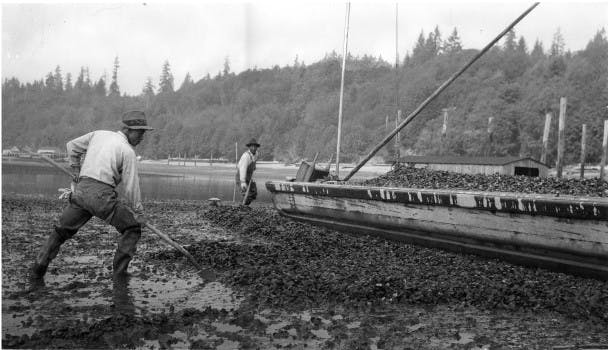 We were built from the ground up, outfitting craftsmen and entrepreneurs of all trades, and supporting American ingenuity with American-made gear. That's why we're proud to support Taylor Shellfish Farms, a company founded on sweat, salt water and hard work. This family-owned, 120-year-old shellfish farm brings fresh clams, oysters and mussels from the Pacific Northwest to the table. In order to learn how to properly shuck an oyster, we went directly to the source: the new Taylor Shellfish Pioneer Square restaurant in Seattle.
THE BASICS
Store live oysters on ice or refrigerate (35-45F).
Keep oysters moist with a damp towel.
Discard any open oysters.
Eat them fresh! We recommend eating them 1-2 days of purchase.
STEP #1
Place the oyster cup side down in your hand with the hinge pointing towards your body.
STEP #2
Place the knife in the hinge, rotate the blade. The width of the blade will pop the hinge.
STEP #3
Slide the knife up the oysters' right side. When the knife hits the muscle, grind the front edge against the top shell until the muscle is released.
STEP #4
Put the knife in the bottom shell so it is behind the bottom muscle. Scrape the knife along the bottom shell to disconnect the muscle.