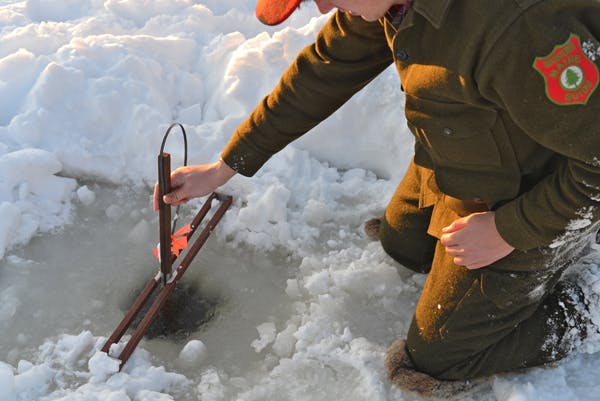 Peter Patenaude, a registered Maine guide, has been a Filson advocate for over six years. His blog Boot & Canoe, focuses on traditional skills and Maine's outdoor heritage. Today, Peter shares 10 tips for a successful day of ice fishing.
Exercising a small brook trout on a fly rod is a great experience; similarly, pulling one out of a hole in the ice can be just as gratifying. Winter is a long season if you are waiting and watching for it to boil over into spring. Ice fishing can be the perfect remedy for cabin fever, and offers a great excuse to get out into the cold fresh air. There are few better ways to build camaraderie among old friends or new acquaintances while fighting off the temperatures and waiting for a flag to stand straight up. I have always truly enjoyed this type of fishing, and arguably, one of the many reasons is because of the lack of bugs. You do not need to invest a lot of money to pursue this activity, and if asked, most people have old ice traps and equipment that has been in their attic, untouched for years. Here are some tips to get you out onto the hard water and catching fish:
1. Elbow Grease: A hand auger or ice chisel will not break down or run out of gas. Although they are more work, they are quieter, more reliable and will warm you up.
2. Extra Blades: Whether you bring a hand or power auger, bring extra blades and the tools to replace them as they can break off or dull by hitting underwater rocks or stumps.
3. Depth: Use a lead sounder to check the depth of the water and set your bait at a level appropriate to the fish you want to catch. You can mark your line by attaching an old button to slide up and down.
4. Variation: Do not be afraid to drill more holes or adjust the depth of your lines if you start catching fish in a particular area and depth.
5. Know the Land Beneath: It helps to know some of the underwater features such as large rocks, ledges or sandbars.
6. Warm Lunch: There is nothing like hot food to keep you going on a cold day.
7. Check Your Traps and Bait: The water in the ice hole will freeze over, so bring your skimmer to break it up and remove it. It is best to do this when you don't have a large fish on the other end of your line. Also, it is hard to catch fish on an empty hook. The smart fish will take your bait without getting hooked and setting off your flag, so every so often, check your bait.
8. Know the Water: It is ice fishing, not open water, so know the lake before you go out onto the ice to avoid thin areas and breaking through.
9. Insulation: When setting up an ice trap or pulling in a fish, kneel on your mittens or another insulator to keep your knees from getting wet in the snow.
10. Snowshoes and Traction: You never know what the conditions will be, and glare ice can be very dangerous. Bring snowshoes as they will work in deep snow, or provide traction on slick ice.