There's no better way to spend a cold winter day than to cook up a delicious, warm meal made straight from the yield of your recent hunt. Especially when it's Super Bowl Sunday! Mark Huelsing from Sole Adventure, is no stranger to this idea and with his Southwestern Venison Chili, we have a good feeling you'll be drooling by end of this.
Winter is a time for the hunter to enjoy his harvest. My favorite winter meal is cooking up some Southwestern Venison Chili. There are endless ways to prepare a chili, but here is my favorite.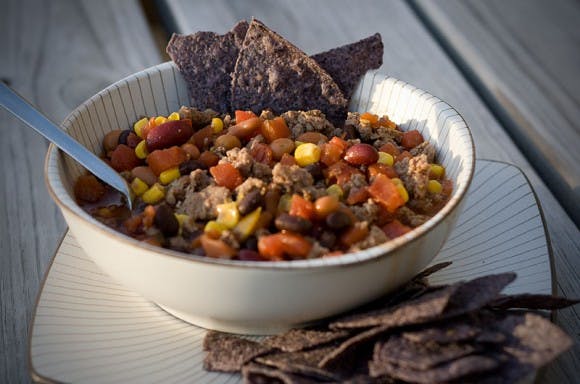 Southwestern Venison Chili
Ingredients
2lbs ground venison
2 large onions, diced
28oz diced tomatoes
2 cans Rotel (1 hot, 1 medium)
1 can white corn
2 cans black beans
1 can pinto beans
1 can red kidney beans
1 package ranch dressing mix
1 package taco seasoning
Directions
Brown the venison in a skillet with the onions.  Once cooked, drain excess fat.  At this point you can either transfer all ingredients to a large pot and cook over the stove, or transfer all ingredients to a slow cooker and cook on medium.  I prefer the later.
Toppings
Optionally garnish with shredded Monterey jack cheese, sour cream, and tortilla chips.
Enjoy!