We hunt for exploration. We hunt for tradition and heritage. We hunt for the love of open fields and steep mountains. The actual act of killing an animal is really only a small part of the story. For most of the days of big-game-hunting season, you go out and you don't kill an animal. You put miles on your boots and glass hillsides and slopes for days. So when a tag is filled, congratulations are in order. And if it's an especially large creature, one who's outsmarted hunters for years, then grins are a little bigger and pats on the back are a little heftier. The truth is once you pull the trigger, the real work begins. And if you're hunting for
meat instead of trophies, then it's a part of the process that you really focus on.
Quartering an animal isn't glamorous. While you do your absolute best to respect an animal, a job has to get done, often quickly, in order for it to fulfill its purpose as food on your table. Knowing where to begin can feel daunting if you haven't killed a big game animal every year since you were ten. That would be me. I'm new to the process and ever so intrigued as to how my other half knows where to cut like a millennial navigating an iPhone. The iPhone bit for him, not so much.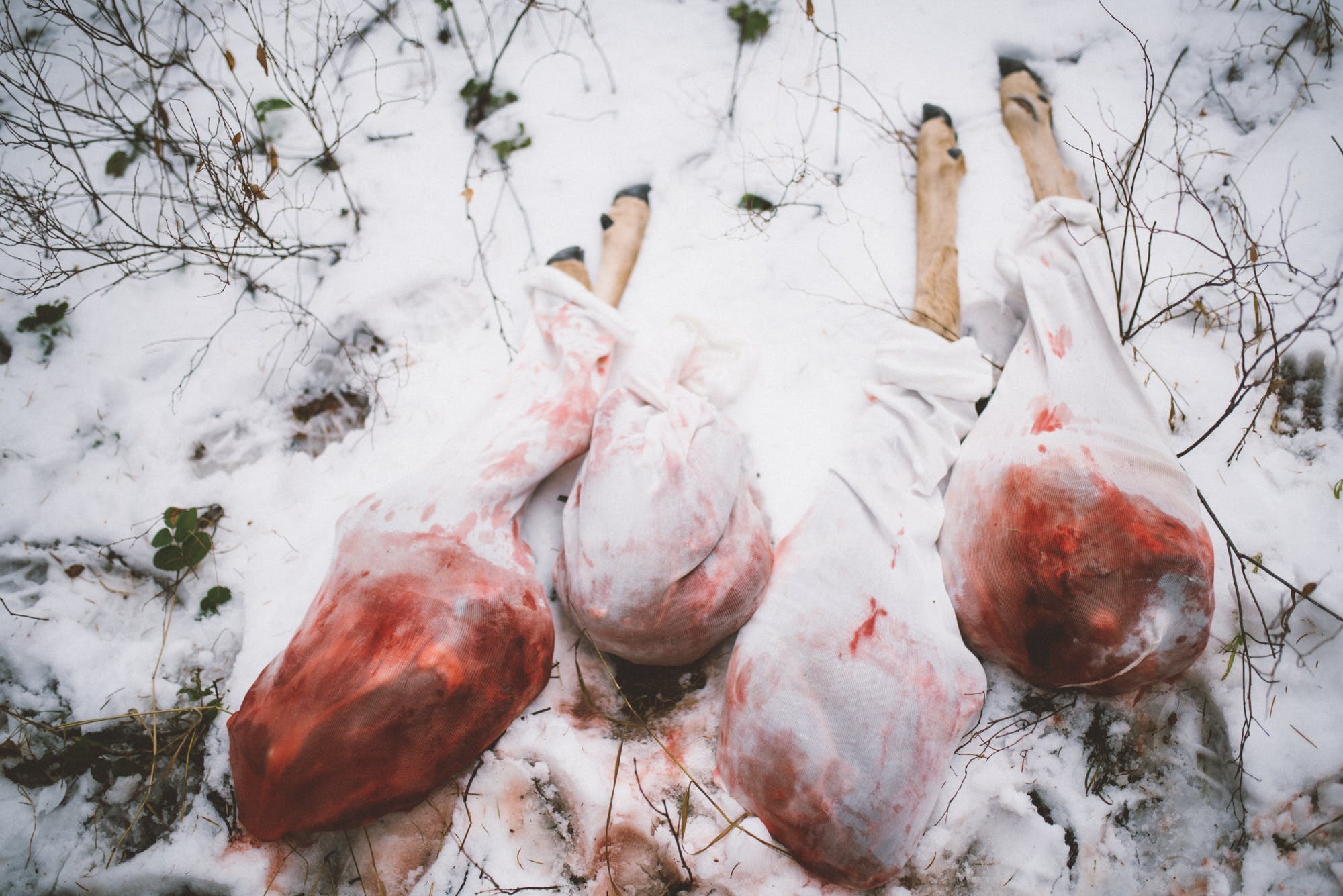 The quarters get bagged and hung or placed on snow. The tenderloin, backstrap, neck and possibly rib meat get carefully removed and wrapped in game bags as well. We load fifty to eighty pounds on our backs and hike out of the woods towards the truck. Often after a few hours of quartering, it's dark, and your hand tends to rest on your bear spray/pistol holster until you're a ways from the animal's remains. Certainly, if you're close to an access road, you can gut an animal and take it out nearly whole. Not usually our preference as we backcountry hunt up in the mountains, miles from dirt roads.
Hanging quarters is a great way to tenderize the meat and keep it stored temporarily if you have a space where temperatures will keep it cool and protected. We butcher right in our kitchen or garage. While taking it to a local reputable butcher is an option for many, the next steps allow you to take quality control to the next level. And when you're meticulous like my guy, you tend to do things yourself.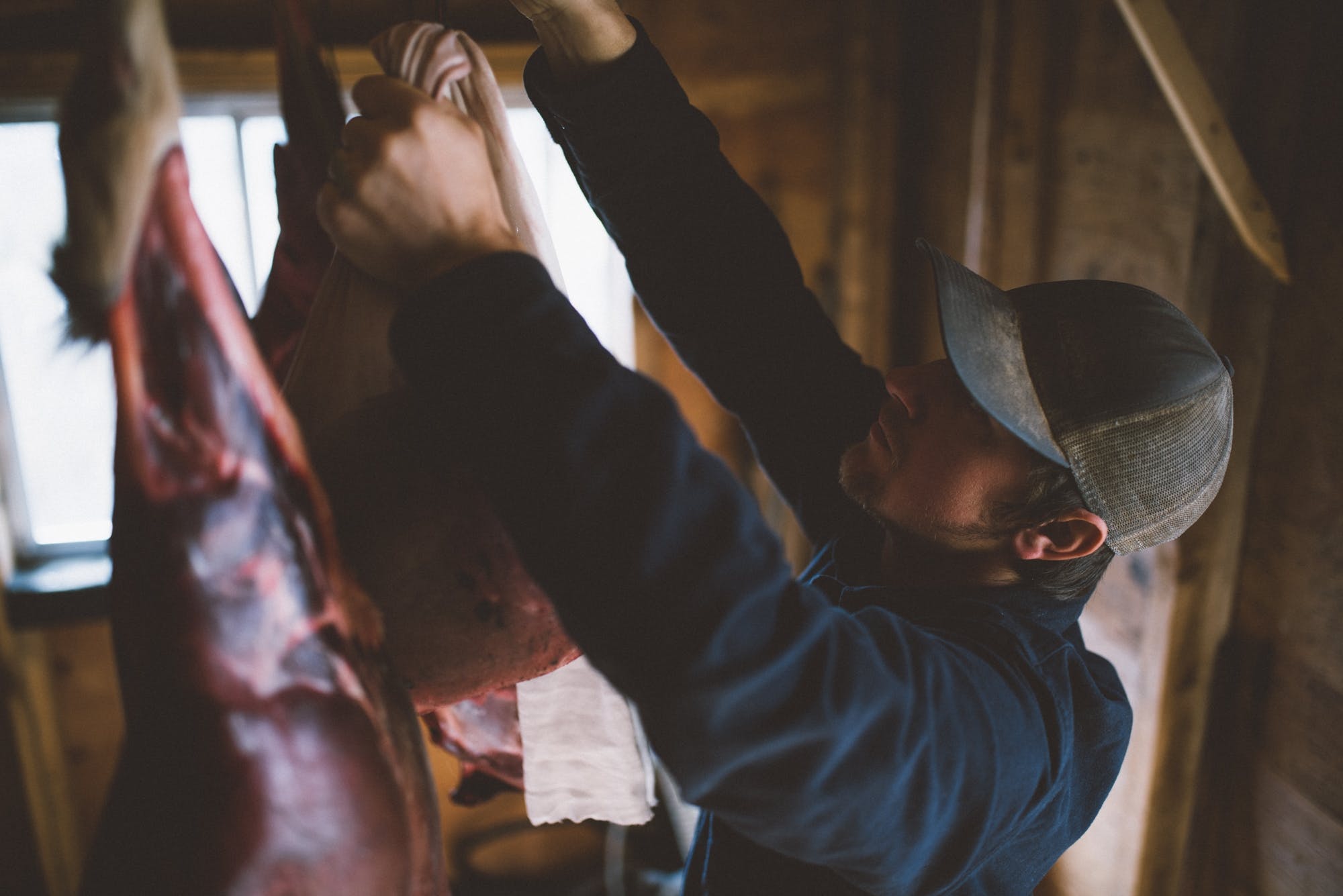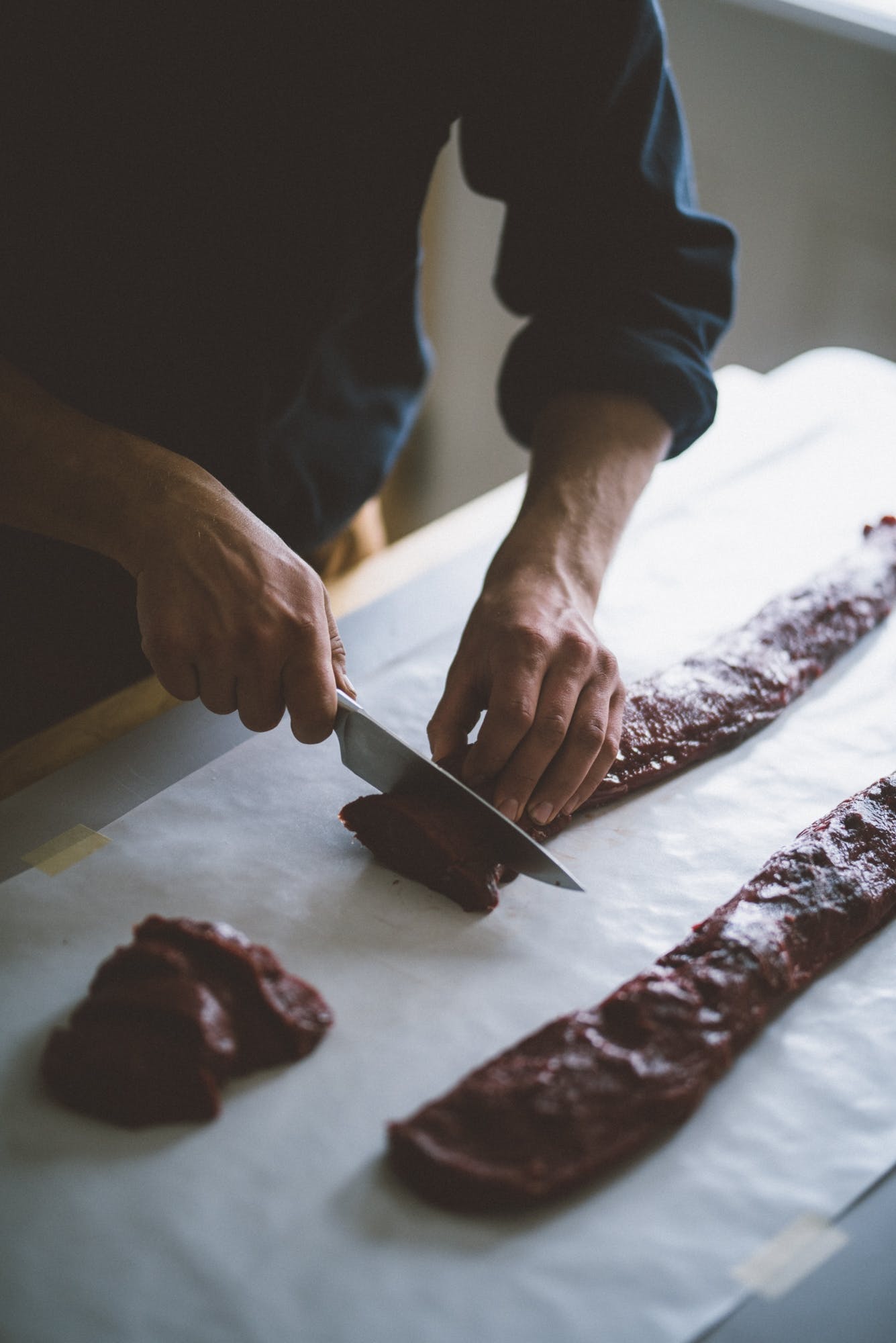 Sinew and silver skin trimming seems to take the most time. We've learned to let larger pieces with excess tissue go and wrap them up into packages labeled CROCKPOT. We simmer these in a slow cooker for a couple days, letting it do the heavy lifting and melt the tough stuff away. We're lucky enough to be able to purchase pig fat from a local organic farm, and we mix roughly 10% in with the burger we grind.
For us, burger tends to be one of the most versatile packages in the freezer. A simple electric grinder works great. If you're processing an animal yourself and you're doing it thoroughly, depending on the size, it can be multiple 12+ hour days. Sometimes we stay up late, grinding burger until we're cranky and it's 1:00 am. Sometimes we call a buddy for backup and an extra hand with a knife.
This isn't the only way to do it. But we've found it's what works for us and many of our friends.
We have tremendous respect for these animals, and we celebrate their lives by cherishing the fuel they provide us for months to come. All winter we cook dishes of venison and elk, grouse, ducks and wild salmon. We make stews and burgers, stir-fries and steaks, paired with as many veggies and preserves as we can get our hands on.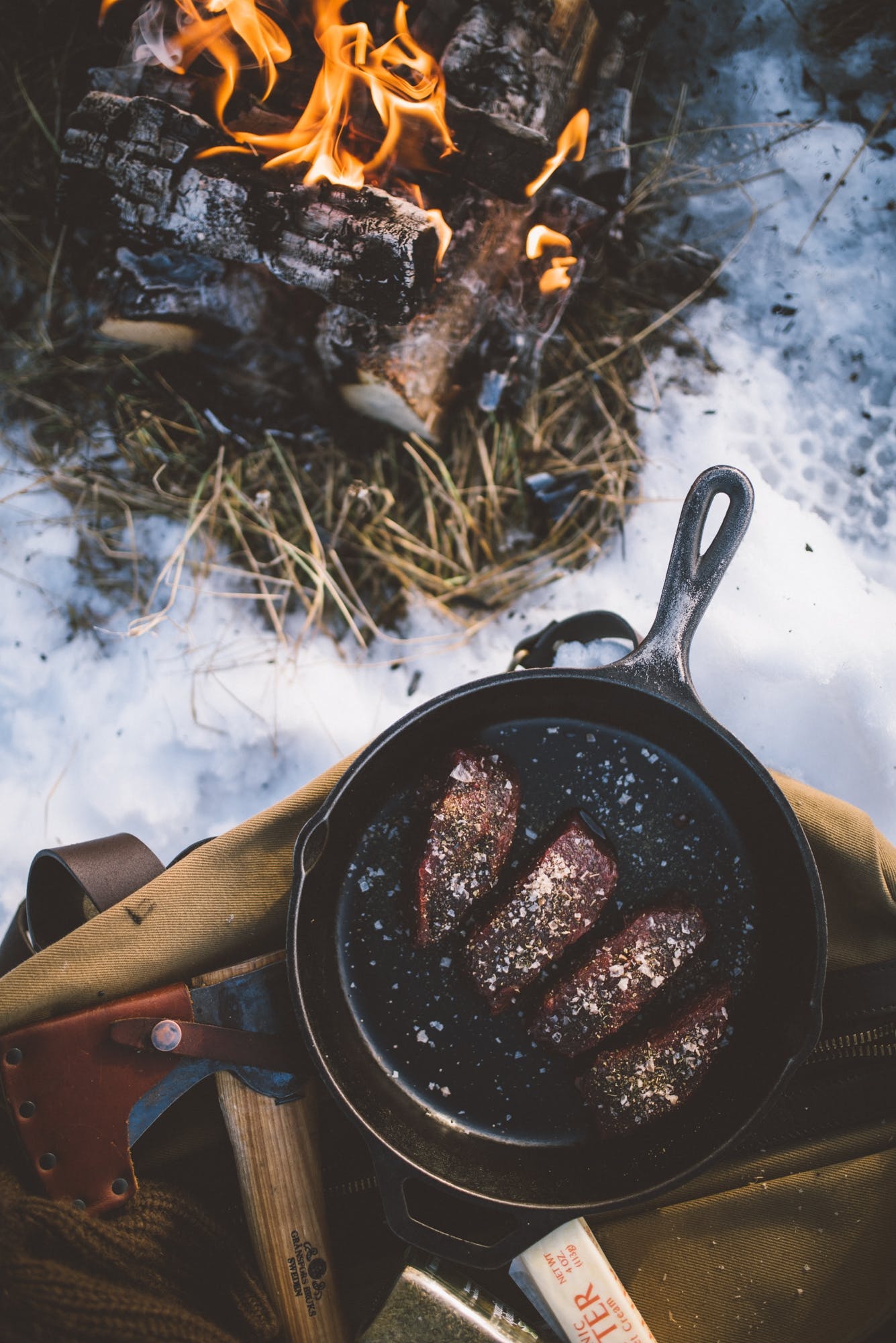 While it's not for everyone to shoot an animal, it certainly opens your eyes to what goes into a respectful hunt, the emotions and efforts that go into being an omnivore. The more knowledge you have, the more informed your personal food choices can be. And as always, the harder you work, the sweeter the reward.
Story and Photography by Camrin Dengel
Follow her on Instagram