For Seattle chef Kevin Davis of Steelhead Diner and his crew of charismatic anglers known as the "Good Guys," catching fish on the river is seen as a plus, but being out in nature with close friends is what really matters.
Over the last decade, Kevin, Steve Joyce, and Mark Kane have spent time together on rivers like the Yakima, camping, cooking, and helping each other through the joyous times as well as the tough. When they're out in nature, Kane relates that "the weight of the day, or the month, or the year, is lifted. As soon as you step in the water, you're cleansed."
I join the Good Guys as they put in at Umptanum on a warm gray day, a few casts are made alongside jokes and the swift-moving current takes us down the lower Yakima canyon. A mile or so passes, a bite or two are felt on the line, and the white noise of the river rises as we drift towards a rocky island in the middle of the waterway.
As soon as we've jumped from the drift boat to the island, the crew is quick to make a veritable cooking camp from supplies on-board and found objects. Complete with Filson coolers for seating and plating, a drift wood table for preparation, and a ring of river rocks forming the grill station, Kevin creates a Michelin-star mimicking waterside cafe. And apart from the hatch of March Brown Mayflies, the buzzing bees, and quick moving current; there's zero distraction.
Die-hard catch and release fishermen, Kevin Davis and company know that it's their responsibility to keep the rivers flowing with native species, and they never cook what they catch. Instead, these fishermen bring their own fish to the river.
"There's nothing better than this. A nice piece of King Salmon, grilled over charcoal, the old-fashioned way. It's as good as it gets!" It's moments like this that Kevin and his friends cherish.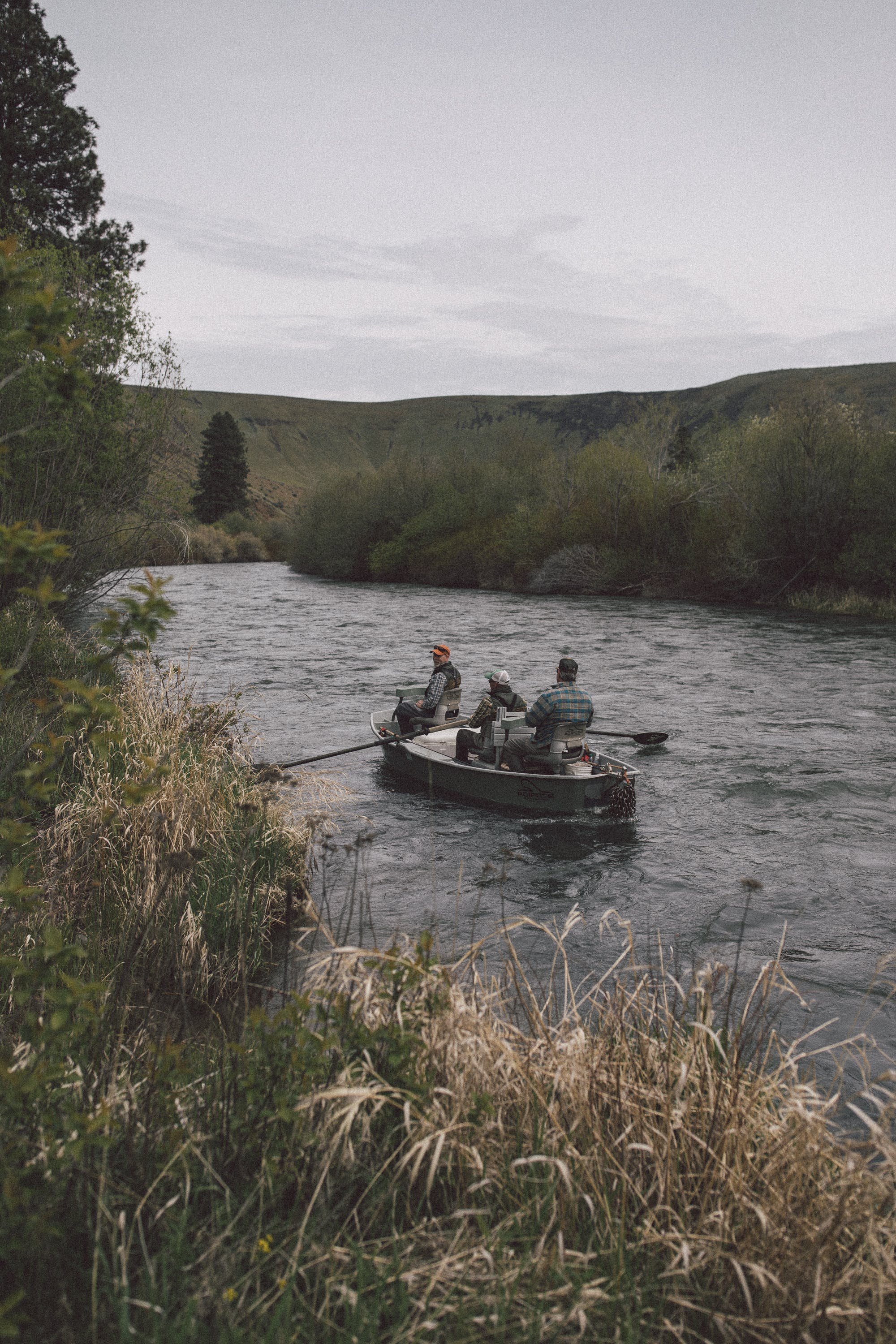 "It's not all about catching fish, it's the pursuit. The experience. The places it takes you, and the people you share it with. Just look at this place —," Steve Joyce gestures towards the rocky canyon walls, the couple of bald eagles circling over head, and the make-shift table where we sit to enjoy a meal among friends.