Scott Sneer CEO of Alpha Ecological, Owner of Blaze Outdoor Adventures, and part-owner of Fikkes Outdoor Innovations, is one of the founders of Hunting with Heroes and other events to honor veterans. Scott's family heritage runs deep in the military and he offers his perspective on what Memorial Day is to him.
Memorial Day through the Eyes of a Veteran's Son
Have you ever listened to a veteran share their war stories or the memories they have of those who have fallen? I have had this unique opportunity and to me, these stories are what Memorial Day genuinely reflects. Hearing a veteran describe their struggles, their gains, their happy memories, and their sad ones is a privilege that I have been able to have throughout my life and I would love to share with you.
I personally never served my country through the military, but I grew up in a military family and was able to see first-hand the healing that can happen in the great outdoors.
I remember when I was a young boy going hunting and fishing with both of my grandfathers and my father. We would first stop in Hood River to pick apples to bring to farms and ranches, so that they would let us hunt on their land. This was a family tradition and we built a lot of meaningful relationships out of this simple gesture. Both of my grandfathers and my father were veterans and back then there were not a lot of programs in place to help veterans after their time of service. Looking back, I can see the great lengths that these men went to, just to have the chance to hunt and fish. It was something that they were truly passionate about. With nothing more than apples for a budget, they made some great memories come to life.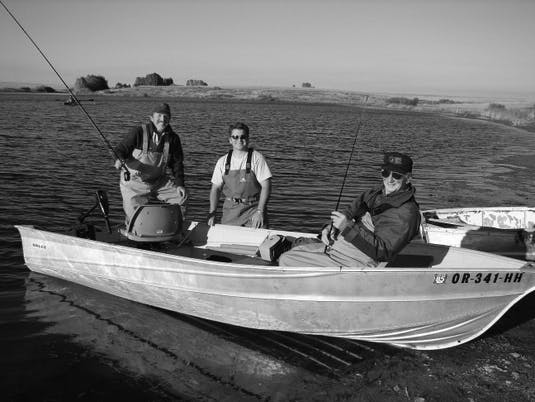 For these men it wasn't just about the hunt or the catch. Something special happened while we were out there in the woods hiking, hunting, and fishing along the Columbia and the Willamette river or pushing through cattails along the Umatilla river. We were just a bunch of guys out in the wilderness, getting together around a campfire and swapping stories. This is what I remember and miss most about my childhood, not the trips to Disneyland or the toys I got for my birthday, but just being out in the woods with them and hearing the amazing things they did for our country. I'm thankful I still have this opportunity today with my father.
These hunting and fishing experiences impacted me deeply. The healing that takes place in the outdoors is incredible and I want to help provide this experience to anyone that has served in the military or armed forces.
My childhood experiences lead to the vision of Hunting with Heroes. Hunting with Heroes gives 50 men and women of the military a weekend of hunting and fishing. They have the chance to sit around a camp-fire and swap war stories. It allows them to bond with others who also have served across several generations and in various wars. Seeing all of these men and women, both young and old, connect over a common interest while helping each other heal, is truly what Memorial Day is all about for me.
"Where I get my excitement from is having the same experience for Iraq and Afghanistan vets to see them go through this, and allow them to get their first good night sleep in years, just gets me excited. The guided hunting and fishing trips gave us a venue where we could just bring things up and talk about it while we were doing something that we enjoy… One of the most important things you can do is talk about your experiences." Jerry Keen – Vietnam Vet, founder of Point Man Ministries and guest at Hunting with Heroes 2011.
"Gathering of vets is the most important part of the healing process because only vets really know vets." Quote from Beau Russell – Vietnam Veteran and Hunting with Heroes 2012 guest.
Not all of us have had the opportunity to serve our country, but we all have the opportunity to honor and serve the men and women that have. I want to give every veteran the chance to hunt and fish. Instead of trading apples for hunting and fishing, Hunting with Heroes provides these veterans with the land and gear they need to create new memories, and enjoy all that this trip has to offer.
On Memorial Day, we are reminded of our fallen heroes. This year I am encouraging everyone to remember them daily, and pass the story of their heroism to the next generation. My job on Memorial Day is to tell my children all about these stories and share with them all of my memories of these great men and women that have fallen. Memorial Day reminds me of the importance of creating new memories for the veterans that are still here, through the great outdoor sports of hunting and fishing.