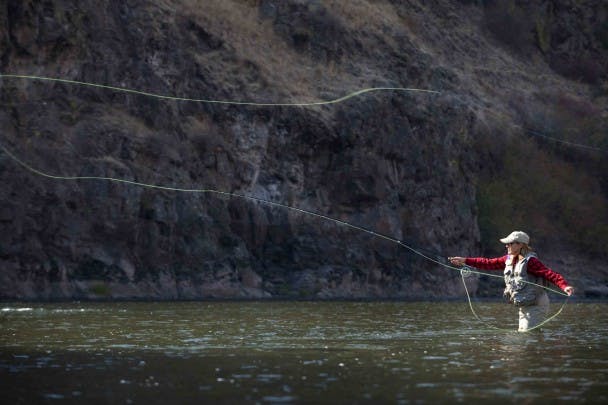 While fly fishing on one of the West's most famous steelhead streams, outdoor enthusiast Judith O'Keefe is reminded what makes this particular pastime so special.
Photos courtesy of Kelly James.
This past October, a group of eight anglers met at a cozy lodge in the Blue Mountains of Southeast Washington, just outside the tiny town of Anatone. Besides wheat production, Anatone – named after a native Nez Perce woman – is not really on anybody's radar screen, with one exception, those interested in fishing for steelhead. This town sits perched on the banks of one of the most famous steelhead streams in the Northwest, the Grande Ronde River.
This annual gathering meant that the usual cast of characters would come together with high hopes for a few excitement filled days of fly fishing for steelhead. Those of you familiar with the sport know that one or two fish landed a day is considered good fishing. Often, an angler can swing flies for days and never touch a fish. There are many reasons that account for such fishless days. It could be a lack of fish in the river, river conditions or simply operator error. And then there's the luck factor. In my view, all fly fishing success is part skill and part luck. With steelhead, you clearly want Lady Luck on your side.
I've put in my share of time on the water, and I know how it goes. Identify the run – wade, cast, wade, cast, wade, cast, and if the fish are there and the fish gods are smiling, you might be in for one of the greatest experiences life has to offer, via a fly rod. So with great expectations, the eight of us, divided into four drift boats, set out early each morning. Our guides were exceptional, our equipment was top of line and our favorite flies were all neatly arranged in our boxes. A couple of the anglers even had some exceptionally smooth single-malt in their flasks and suggested they would be willing to share when we all met together mid-afternoon. Success guaranteed, right? Now remember, we're talking steelhead. In three days, there was just one fish landed, and the credit goes to the most tenacious of the group, Harry. It was a beautiful hen and boy was Harry proud, happy, and satisfied; as he had every right to be. Harry had worked hard for that fish . . . wade, cast, wade, cast, wade, cast.
Now you'd think I would have driven away from that river feeling disappointed, even unlucky. On the contrary, this trip will go down as a favorite, and not because I caught or didn't catch a fish. On that beautiful fall day, as I drove along the back roads towards home I understood why this trip was so special. Some anglers fish because they enjoy the solitude; me, I like the camaraderie and shared passion found in a group of friends "on a mission." Second, the scenery was extraordinary. And last but not least, I knew once again, the joy and peace found in the simple act of immersing oneself in a river and casting a fly rod.
Perhaps if I'd caught a fish or two, my trip would have been over shadowed by the victory. Bragging rights demand that the story must be relived – again, and again; the cast, the hook-up, the jump, that long downstream run and how in the end, I so skillfully landed that beauty. Oh, and the "hero shot" to be emailed out to all those interested and some who are not. Amazingly, I avoided all of that hullabaloo and as a result, gained a greater appreciation for nature and friendship. And the burning question is: If given the chance, would I trade places with Harry? I'll let you ponder that one for yourself.