Maine-based Rhon Bell of Backwoods Plaid, takes Filson along for a late season camping trip navigated by bush plane. This remote access provides access to moose, top notch salmon fishing and memories with friends that will endure a lifetime.
Late season camping offers a special attraction for every outdoor lover. Vibrant peak-colored leaves of fall hang tenderly to every branch. Late-season salmon linger in the pristine waters of a remote wilderness. Warm afternoons are quickly met with the bite of an evening chill that causes outdoorsmen to resort to the comfort of a woolen shirt.
We load the Cessna with needed gear for two days of adventure. Our aviation headsets quickly tune to XM radio and taxi off into the heart of the woods. The Maine woods, much like Alaska, are filled with bodies of water. Bush pilots often call great comparisons to the two states. In fact, my friend, today's pilot, has flown extensively in each.
We agree our first mission before landing is to see a Bull Moose. Jamming out to Hank William Jr's "A Country Boy Can Survive", twenty minutes into our trip, we spot a large bull in his natural habitat. Two passes are made over a full-grown male feasting on lake vegetation before we coast in for a quiet landing.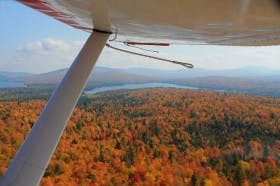 From a distance, the beauty is observed of the mammoth Maine creature. Back in the air, a distant body of water comes into view beyond the oranges, reds, and yellows of the forest canopy far below. Lower Richardson Lake will be our home for the following days. This is one of the largest in the state and home to only a historic guiding camp. A secluded sand beach awaits the floats of our plane. No time is wasted setting up camp and wading into the lake for a few evening casts. Each of us experience success before dusk by hauling in a glimmering salmon. The enjoyment is quickly shared before release, but the memories will surely last.
The night sky is soon filled with billions of blinking stars shining so brightly that mirrored reflections are present on the peaceful lake. A certain calm is brought to this world that is hours away from the nearest house or honking horn. This is a place I could call home. A cold beverage of choice and good company make for an entirely perfect camping experience.
Afternoons are spent exploring the wilds of a state rather untouched by man. The only part of landing at camp I look forward to is grilling thick steaks over the flames of a fire where the wood was chopped by my own hand. The crackling of an evening fire fills the only void that reading a quiet book leaves behind. My first bush plane camping experience is one for the books. Until tomorrow, packing for home is only a day away.