George Hickox has a passion for developing bird dogs and has trained and campaigned National High Point Champions, numerous Field Champions, and has garnered over 100 field trial placements. He is also the Hunting Dog Editor for Shooting Sportsman Magazine, writes training columns for Pointing Dog Journal ,Retriever Journal, has written numerous dog training articles for magazines such as The Purina Breeder and Pheasants Forever, and appears regularly on television. Visit www.GeorgeHickox.com for training tips, articles, training school schedules, and training DVDs.
Earlier this summer ten pointer pups were born. Five of the pups went to new homes at eight weeks of age. I kept five of the pups, three males and two females. The pedigree of the pups is truly blue ribbon with three Bird Dog Hall of Fame dogs in the first two generations and a multitude of titled field champions in the family tree.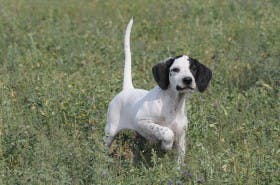 The hopefuls are now twelve weeks old. It will be two years before the pups will be hunting in control, hold point reliably, be steady to wing and shot, and back dependably. But the training started six weeks ago.
I think a great way to start the pups off learning to learn is with clicker training. Clicker training encourages dogs to open their mind to new learning and offer behaviors in order to get a reward. In the initial stages I use food as food is a primary reinforcement. I get the behaviors of standing on a board, going into a kennel, touching target sticks, and recall. As eventually "Whoa" will be the most important command in a pointing dog's life because holding point with style will be the most important task expected of the dog I do a lot of repetitions rewarding the dog for standing.
I believe it is of paramount importance to introduce the pups to birds at an early age. I want to develop the pointing instincts and the desire to quest. I first introduce the youngsters to pigeons and quail released from a Johnny house. I want the pups to have bird contacts every time they are taken to the field in their early development. No birds>no bird dog. It is much more difficult to get a 12 month old dog pointing and exhibiting strong bird instincts if the dog has not yet been exposed to birds than it is to jump start genetically talented puppies.