Tyler Sharp is a documentary photographer, writer, and filmmaker based out of Dallas, Texas. Traveling extensively on assignment, he has filmed and photographed a myriad of cultures and landscapes, and slept under the stars in some of the most remote regions of the world.  Today, Tyler explores Palo Duro Canyon, the "Grand Canyon of Texas," on a spring camping trip with his girlfriend Sage.

As winter loosens its icy grip, and spring begins to emerge in Texas, it's a great time to explore places that will become oppressively hot in the summer months. As the old trail bosses used to say before a long cattle drive north, "load em' up, and move em' out!" So after packing the Grand Wagoneer full of gear and our golden retriever, we did just that. Wagons west, indeed.
Our first stop was my girlfriend Sage's hometown of Nazareth. Situated in the high plains of the Texas panhandle, it's a small town of about 300 people, dotted with farms and ranches. In this part of Texas, incessant strong winds often whip the arid soil into dust tornadoes, called "dust devils." Upon arrival, we caught the tail end of a big one, which stampeded hundreds of tumbleweeds towards the Wagoneer, one of which latched onto the hood ornament.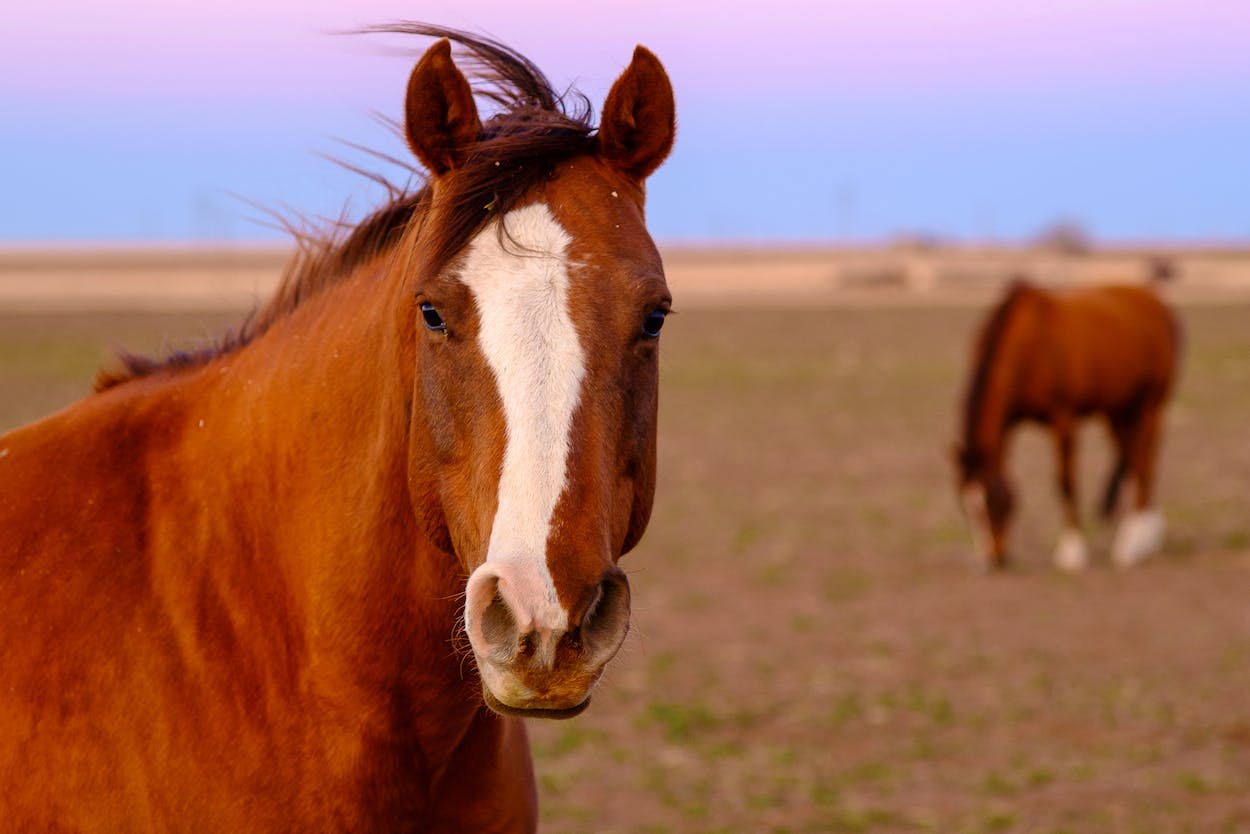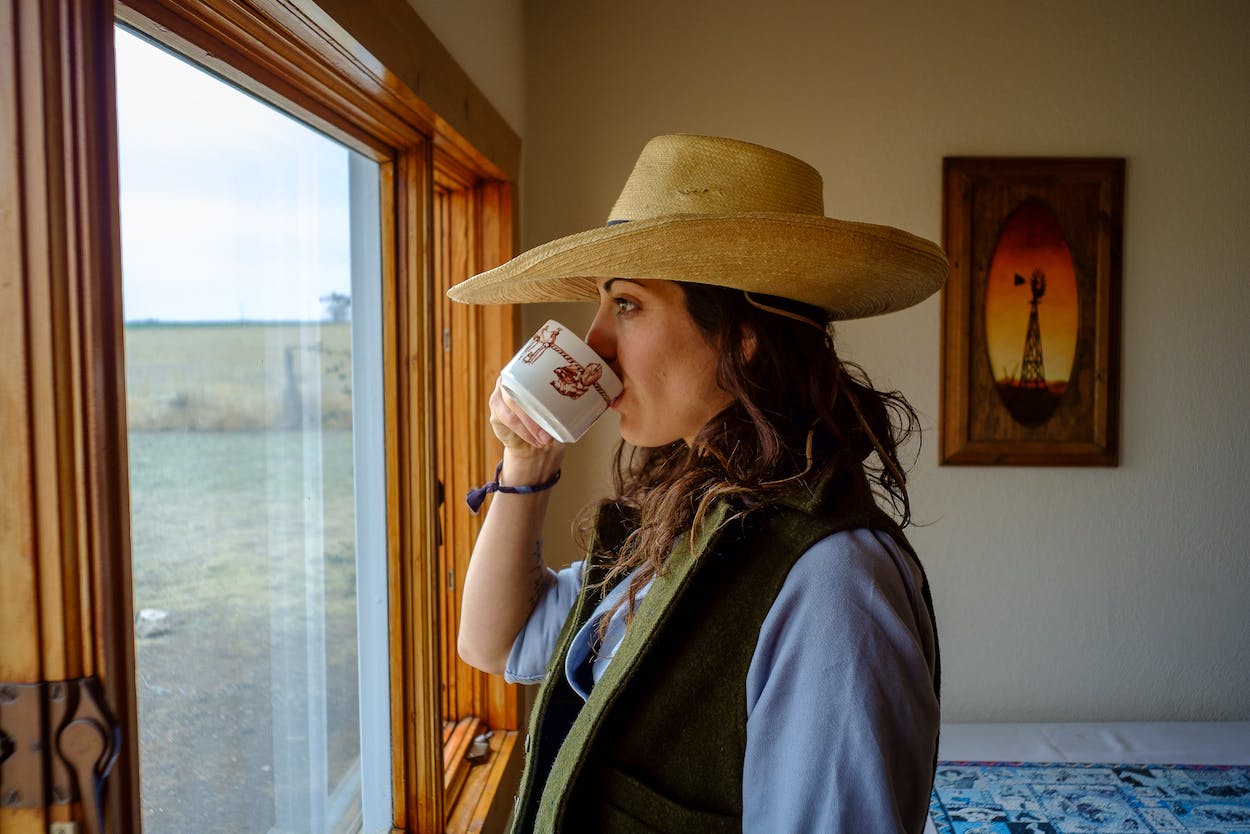 Sage being a former champion cowgirl, it was paramount to get her on a horse immediately. At the age of three she would sneak out at night, climb the corral fence, and pull herself onto the back of her father's black stallion by the mane, riding bareback into the moonlight (so I'm told). So we went to visit her friend Shaw, a gritty cowboy in his own rite, to saddle up. Being that you earn your keep in a place like Nazareth, we had to help sort sick calves out of the herd before we got to do any joyriding. As if not an hour had passed since her rodeo days, Sage sorted cattle with ease and grace. Once our work was done, we headed to pasture to let loose, galloping until both horse and rider were spent.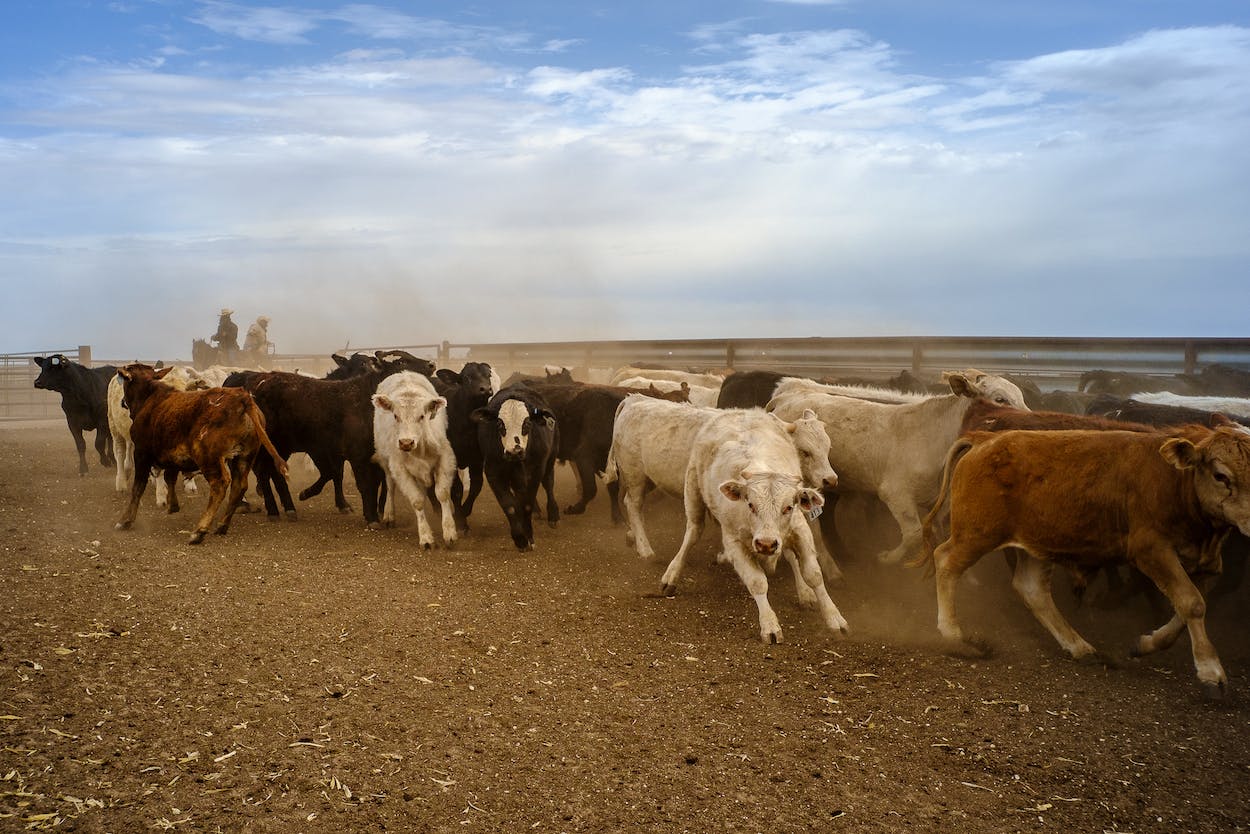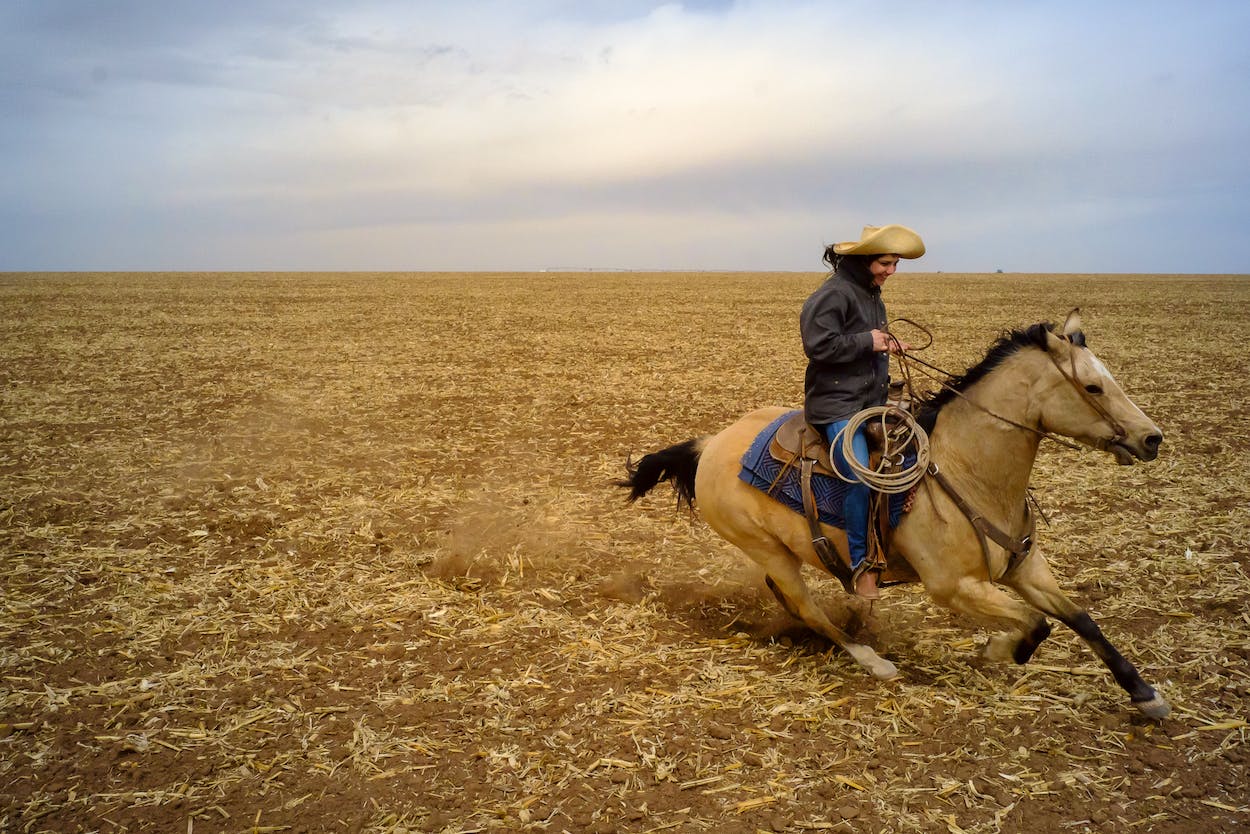 In my opinion, a trip to West Texas wouldn't be complete without gunplay. Being that I brought my pair of .44 mag Ruger Vaqueros, we set up some makeshift targets, and got to six-shootin'. There is something very distinct about the acrid smell of gun smoke mixed with dusty country air, and after a box of ammo, our inner gunslingers had been appeased. We collected the casings for Sage's nephew to reload, and moved on down the trail in our other trusted steed, Winnie the Wagon.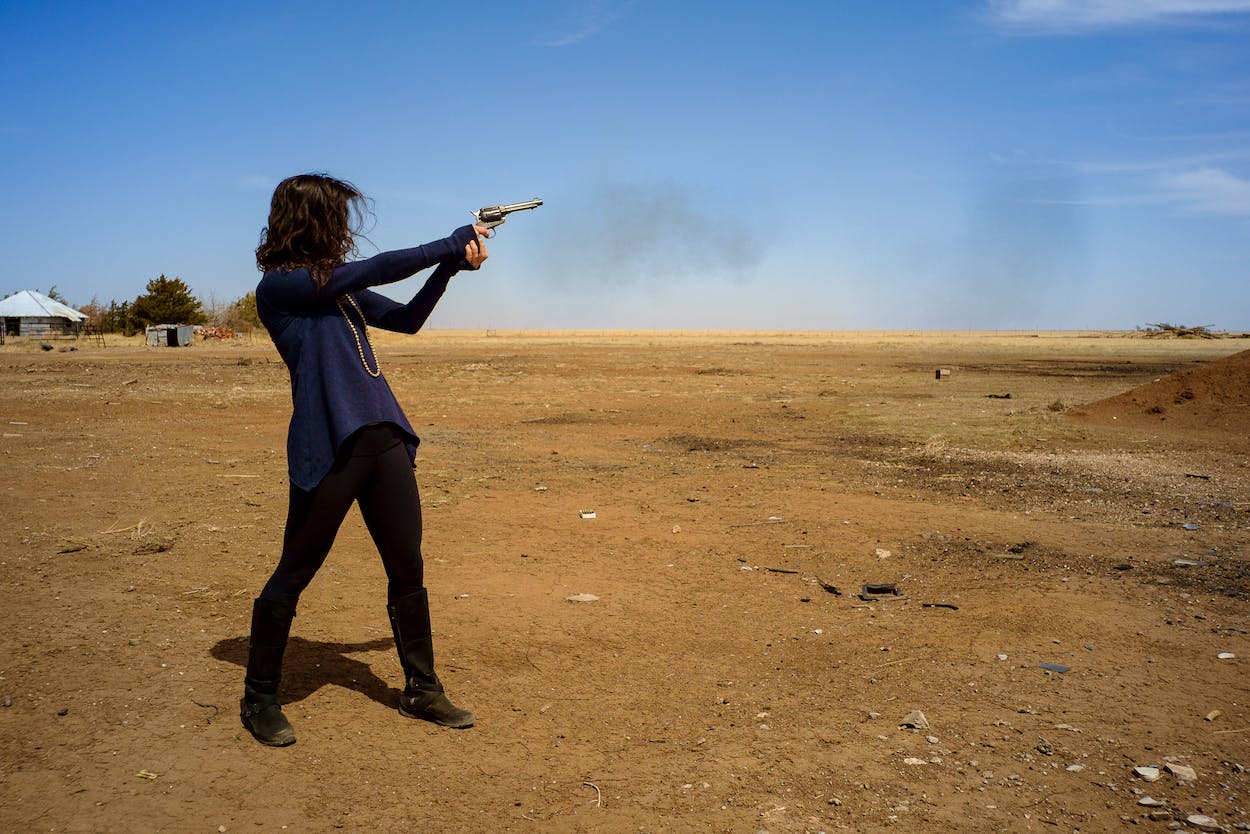 Not an hour away lay our camping destination, Palo Duro Canyon. Dubbed the "Grand Canyon" of Texas, it is the second largest canyon in the US. Once inhabited by the Apache, Kiowa, and Comanche tribes, Palo Duro was formed by headwaters of the Red River spilling over the Caprock Escarpment, creating fissures, spires, and canyon lands that reach as wide as 20 miles across. As we entered the expansive chasm, thunderheads started to build in the western sky, dark and threatening. We got in a short hike before the skies opened up, making it back to the wagon just in time. But our Filson garments proved their worth, and despite a steady downpour, we remained dry throughout the night.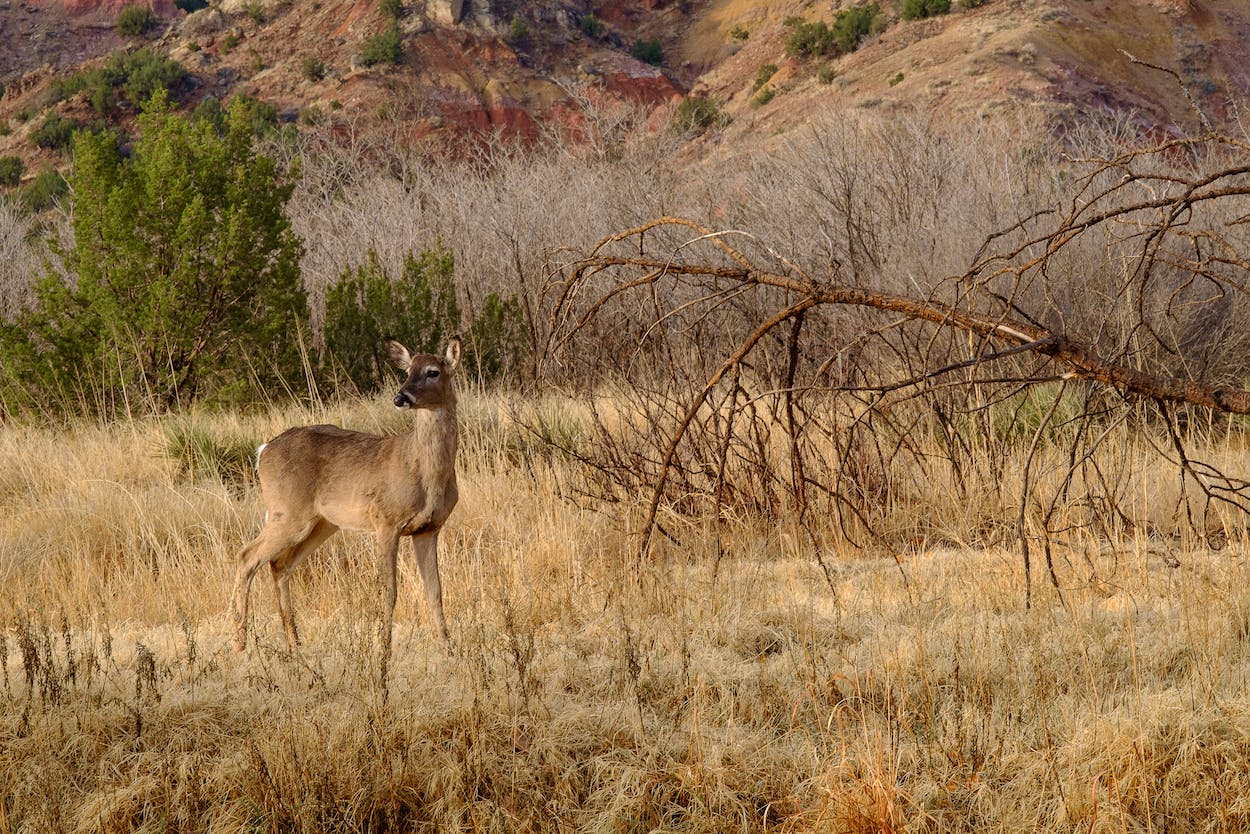 Palo Duro is famed for its abundance of meandering horse trails, so we ventured to a local livery stable, owned by our friend Jesse Sorenson. We saddled up, and trotted down the paths that were once ridden by Comanche braves. There is something indescribably ancient in those surrounding cliffs, having stood the test of time and civilization thus far, and seeing them from horseback is an honest nod at the old ways. Though the basin was mostly dry, Sage pointed out the watermarks from years past, where she and her brothers would wade their horses into the streams to cool off. Afterwards they would lay in the warm, red sands to dry while their horses grazed. I stood in awe of the beauty in front of me, whose jagged red cliffs seemed to echo those happy memories from her childhood.
After a short picnic and some bourbon in the shade, we headed back to the stables to say goodbye. By now our pace had slowed, and the city seemed far away. It was hard to leave all that beauty and history behind, but as I pulled off the last of the red dirt roads, we were gifted with a spectacular field of yellow flowers that had bloomed in the previous days storm. And as dusk turned to dark on the highway home, with Bob Wills playing on the radio, I had time to reflect on our trip; all in all, we just about partook in the best of everything that West Texas has to offer.