Washington Trails Association is a member-supported nonprofit that works to protect trails and promote hiking in Washington through volunteer trail maintenance, education and advocacy, and inspiring the next generation of hikers. Learn more at wta.org.
Labor Day weekend is past and the days are getting shorter, so it may seem like prime hiking season is drawing to a close. But photos in recent trip reports on wta.org are featuring vivid orange and red leaves, a sure sign that many hikers' favorite season is just beginning.
With cooler temperatures, fewer bugs, and plenty of juicy berries, fall on Washington's hiking trails can be the best season of all. Before the snows fly and the rugged backcountry disappears under a mantle of ­white, pack your bag full of the Ten Essentials and head out for an end of season getaway.
Things to remember pre-trip:
Check trail and weather conditions: Weather can change quickly in the backcountry. Get the latest weather forecast, and check trip reports on WTA's online hiking guide. Trip reports provide valuable information about current conditions of a trail, and they're written by hikers like you.
Leave an itinerary: Always let someone at home know where you're going, where you're camping, and what your expected return time is. Use WTA's printable itinerary form, or the handy Bugle app for smartphones.
Bring the right pass: It's a huge downer to come back from a stellar hike only to find a ticket on your windshield. Find out more about passes here, and read FAQs about which pass you might need here.
Leave No Trace: Campers in the backcountry can damage fragile alpine areas. Camp with minimal impact by observing the rules of Leave No Trace. If you're traveling in a group, consider creating a communal privy in order to minimize the number of catholes in camp.
Trail etiquette: Remember who yields to whom on trail. When you're hiking uphill, you've got the right of way. On the way down, step aside to make way for hikers trudging toward you.
If you encounter stock: step off to the downhill side of the trail regardless of which way you're heading. Horses have right-of-way when meeting hikers. Greet the rider and ask if there's anything you can do to make the passing easier.
Enjoy Washington's golden hiking season, and don't forget to share your adventure when you return by filing your own trip report at wta.org.
North Cascades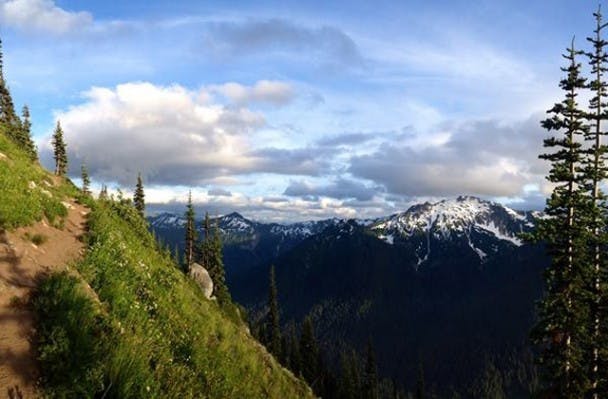 29.2 miles roundtrip
7500 feet elevation gain
For loop hike nirvana you'd be hard-pressed to do better than this one. Begin and end along a river in the phenomenal old-growth forest of the North Fork Sauk River Valley. In between, you'll climb high above the forest floor to the iconic Pacific Crest Trail, breaking out of the trees onto a stark ridgeline.
From here, plan to slow your pace as you wade through a sea of wildflowers (or berry bushes) gazing at the craggy peaks that surround you. Glacier Peak commands most of the view, but Mounts Baker and Pugh, Sloan Peak, and plenty of other snow-capped peaks vie for your attention as well. Plenty of side trips are available along the way, and there's even a high route included for those who like a little scrambling.
South Cascades
13 miles roundtrip
1400 feet elevation gain
Though the name elicits a less-than-idyllic image, Burnt Rock is a beautiful area. A haven for wildlife, you might run into deer, elk, bear, or mountain goats in the meadows on this hike in the rugged landscape around Mount Adams.
It's also a fantastic spot for photography. When you're not busy chewing huckleberries, stunning views of the quiet volcano will have you slack-jawed. Black volcanic rock contrasts starkly with brightly colored wildflowers and the white snows atop Adams. Those black rocks with have geology buffs fascinated too, the "Burnt Rock" is an upthrust of volcanic rock in the middle of a massive lava bed. But respite from the hot rocks can be found at your camp near sparkling Sheep Lake, a cool oasis tucked in among the brittle, dried lava just off the Pacific Crest Trail.
Olympic Peninsula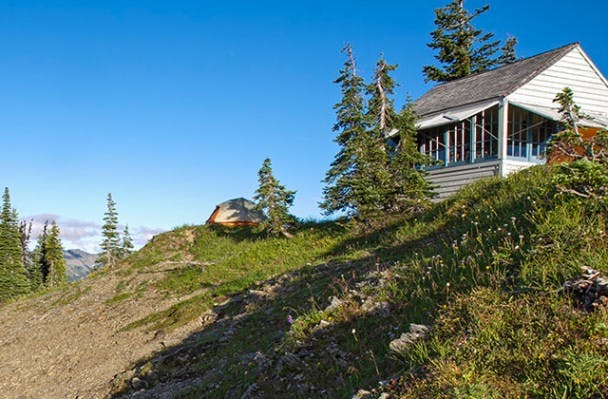 27 miles roundtrip
4983 feet elevation gain
Hike a series of trails on the Olympic Peninsula that lead you deep into the heart of Olympic National Park. Your destination is a fire lookout built in 1933 and named after Dodger Bender, the first lookout to man the building. On the way, you'll hike the aptly named Long Ridge trail, traveling long switchbacks that offer frequent views of the Elwha River.
Massive Mount Olympus comes into view after you cross the ridgeline and begin hiking along the western slope. Continue to climb steadily, passing a series of alpine meadows and snowmelt tarns, and eventually reach the Dodger Point camping area. Drop your pack and complete the last half-mile to reach the historic lookout. From the base, look for Mounts Dana, Wilder, Christie, Scott, and Barnes or gaze down the Hayes River Valley to Mount Anderson and imagine what it might have been like to be Dodger, living in the lookout for months at a time.
Eastern Washington
16 miles roundtrip
2000 feet elevation gain
This is the ideal trail for those seeking solitude without really demanding elevation gain. From the trailhead along the San Poil River, there's a moderate grade to achieve the ridgeline, but once you've gotten there, miles of easy, rolling trail sprawl out ahead of you. The views are endless, but taking a look near your feet is worthwhile, too. Flowers here thrive in the rich grassland, and aromatic Ponderosa pines perfume the air with their spicy scent.
With lots of room to camp in the hills and ridges here, you can make this hike as long as you like. There is plenty to explore here, including a potential trip up Thirteenmile Mountain, but be sure to bring plenty of water as there are no reliable sources along the way. Wildlife abound here; in fact, it's possible that you'll spot a moose! Hike this one using two groups doing a key swap in order to see the entire trail without working out a shuttle.